The Best Time to Scuba Dive in Sri Lanka
Do you wonder what is the best time to scuba dive in Sri Lanka? Then you found the right place. Divinguru is operating whole year round and we offer all scuba diving activities, PADI Courses, Snorkeling and Whale & Dolphin Watching. From October until April we are open at our diving centre Divinguru Unawatuna on the south coast of Sri Lanka. From March until October you find us at Divinguru Nilaveli, located 10km north from Trincomalee town on the east coast. So from 15th March until 10th April you can scuba dive on the best spots on both coasts of Sri Lanka. But that doesn't mean you can scuba dive in Sri Lanka only one month.
We are open whole year round at our different locations and diving according the monsoon season. Each coast has something different to offer so let's have a look when is the best time to scuba dive in Sri Lanka.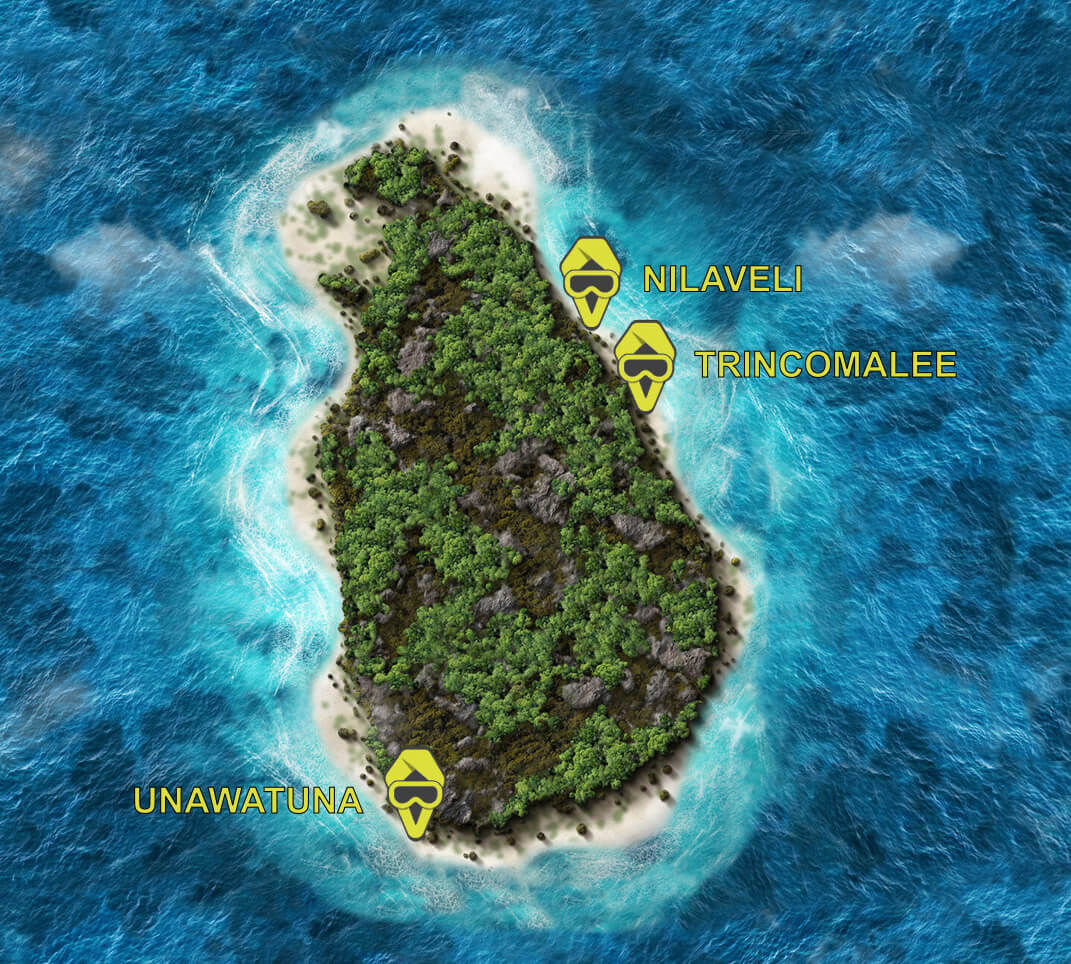 Dive with us on both south and east coast whole year round!
When is Sri Lanka diving season?
The diving season in Sri Lanka is whole year round at different locations. We can divide diving in Sri Lanka into two seasons. According to to monsoon season Divinguru is operating half year in Unawatuna on the south coast and second half of the year in Nilaveli and Trincomalee in the north-east of Sri Lanka.
Divinguru Unawatuna is open every year from 15th October until 10th April, in this 6 months period you can enjoy the best diving conditions in Sri Lanka. From mid of April onwards diving on the south coast is influenced by the south west monsoon. Due to these conditions Divinguru centre in Unawatuna is closed. No worries, we are moving to the untouched north-east coast!
However bathing and swimming is possible during the whole year due to the reefs protecting Unawatuna Beach and the Mihiripenna/Dalawella Beach from high waves.
Divinguru Nilaveli is operating every year from 15th March to 30th October just 10km from Trincomalee town. In this time period you can find the best diving on the nort-east coast with calm sea and good underwater visibility. Our diving centre is located very near to the famous Pigeon Island Marine National Park in Nilaveli where you can snorkel with sharks and turtles. From mid November onwards the diving on the east coast is influenced by the north east monsoon. The sea becomes rough, heavy rain influences the dive conditions and our diving centres in the east are closed. Then Divinguru moves to the south where the south west monsoon ends at around the mid of October and the dive season starts.
During the off-season the sea becomes rough and heavy rain influences the dive conditions. Usually monsoons carry more humid air from the Indian Ocean. Sometimes there are strong winds and rains but on average never longer than an hour or two.
The Pigeon Island is located a few minutes by boat transfer from Divinguru Nilaveli.
Weather & Diving conditions in Sri Lanka
Daily sunshine is even during the monsoon period in average 8 hours a day. Day temperatures are around 29 to 32 Degrees Celsius and night temperatures 26 to 30 Degrees Celsius. Water temperature is the whole year between 27 and 30 Celsius. Underwater visibility can change quite quickly, on average we have 10 meters, if lucky 15 meters maximum.
What you can expect while diving in Sri Lanka?
Both coasts has something different to offer. On the south coasts you can expect deep diving and wreck diving and on the east coast shallow diving with beautiful corals. If you are looking to spot a big fish, then definitely visit the famous Pigeon Island Marine National Park on the east coast of Sri Lanka where you can snorkel with black tip reef sharks and sea turtles. If you get lucky on the south coast you can spot whale sharks or manta rays during months of January until April.
Check out also our Dive Sites to learn more about different diving spots and marine life in Sri Lanka. For wreck diving we also recommend Hikkaduwa or Colombo.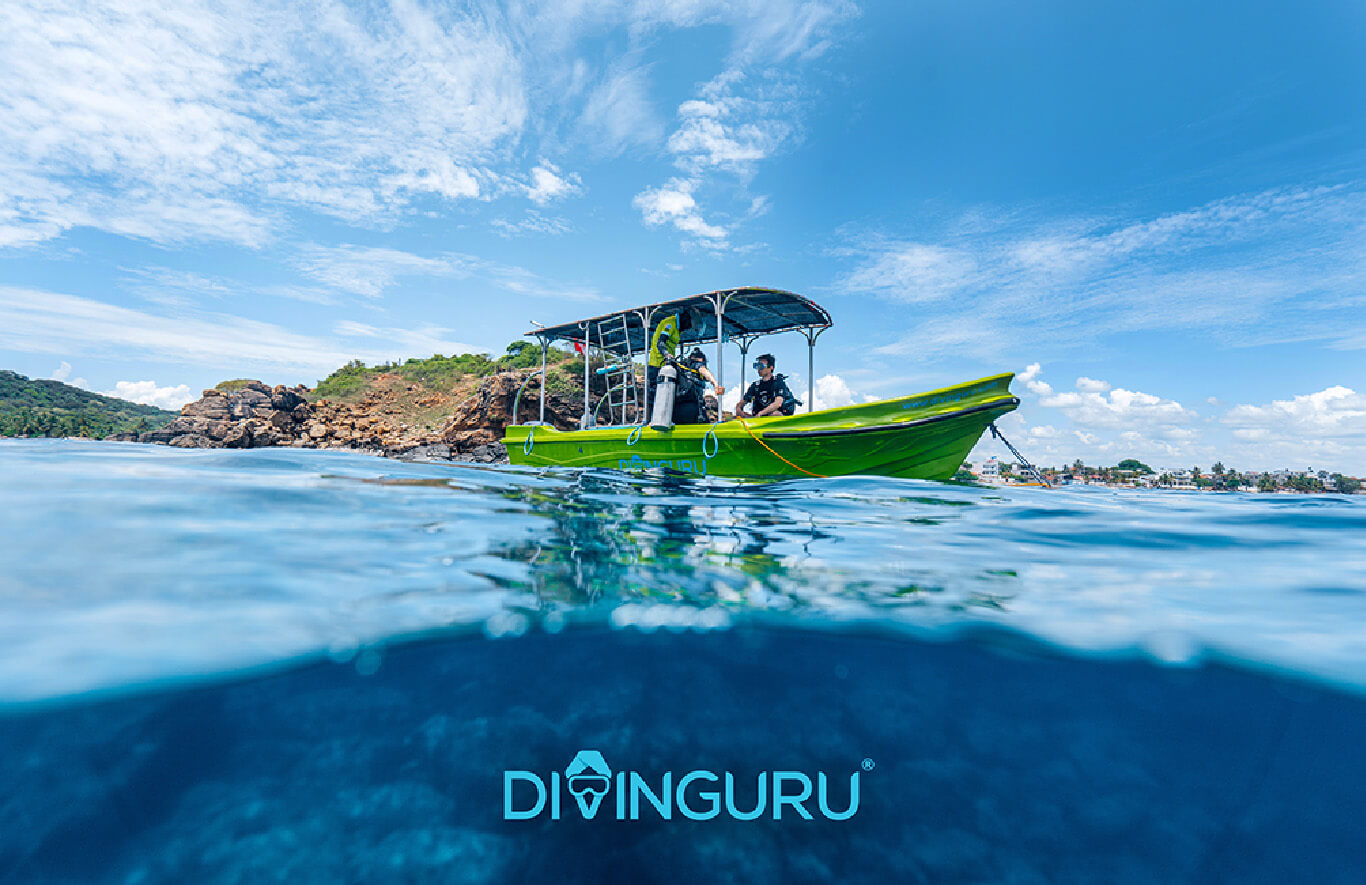 Ready to start your diving adventure in Sri Lanka?
SOUTH COAST – Unawatuna Season
from 15th October – 10th April
wrecks for all diving levels
deep dive sites (max. 32m)
with spectacular marine life
rock topography with swimthroughs
visibility: 5 to 15 metres
EAST COAST – Nilaveli, Trincomalee Season
15th March – 30th October
the best coral reefs in Sri Lanka
shallow dive sites around 10 m (max. 18m)
snorkeling and whale watching
Pigeon Island Marine National Park
visibility: 5 to 20 metres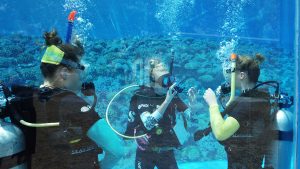 SCUBA DIVING How to choose the best diving centre for your PADI Open Water Diver Course  Author: Ellie  19th May 2023Read Time: 7 minutesThe PADI Open Water Diver Course is the world's most popular and widely recognised entry level scuba course. If you've always...