Groups: onboard with max. 7 snorkelers
Age: min age for kids is 5 years old
* Check in at 8.30 am Only Available by booking through walk in or by phone call after 3 pm one day before the activity starts.
Vacation activity for the whole family
You don't need to be a scuba diver to get to know the fascinating world underwater and its splendor!
Equipped with mask, snorkel and fins you float on the water surface and watch the vibrant coral reefs, rocks and coral reef-fish below. An intense experience and unforgettable moments.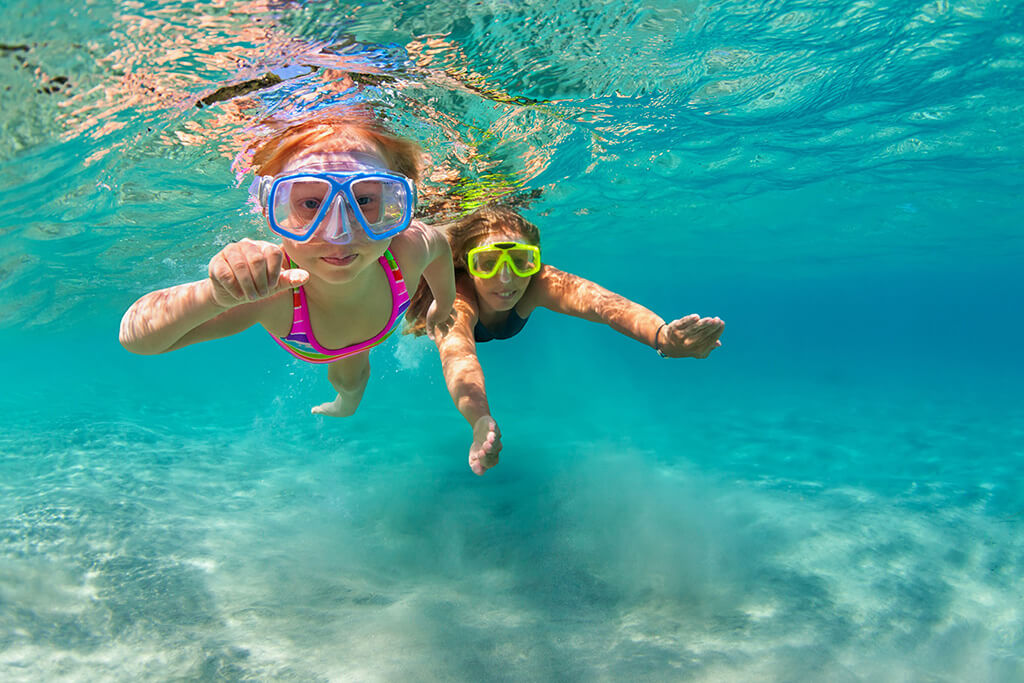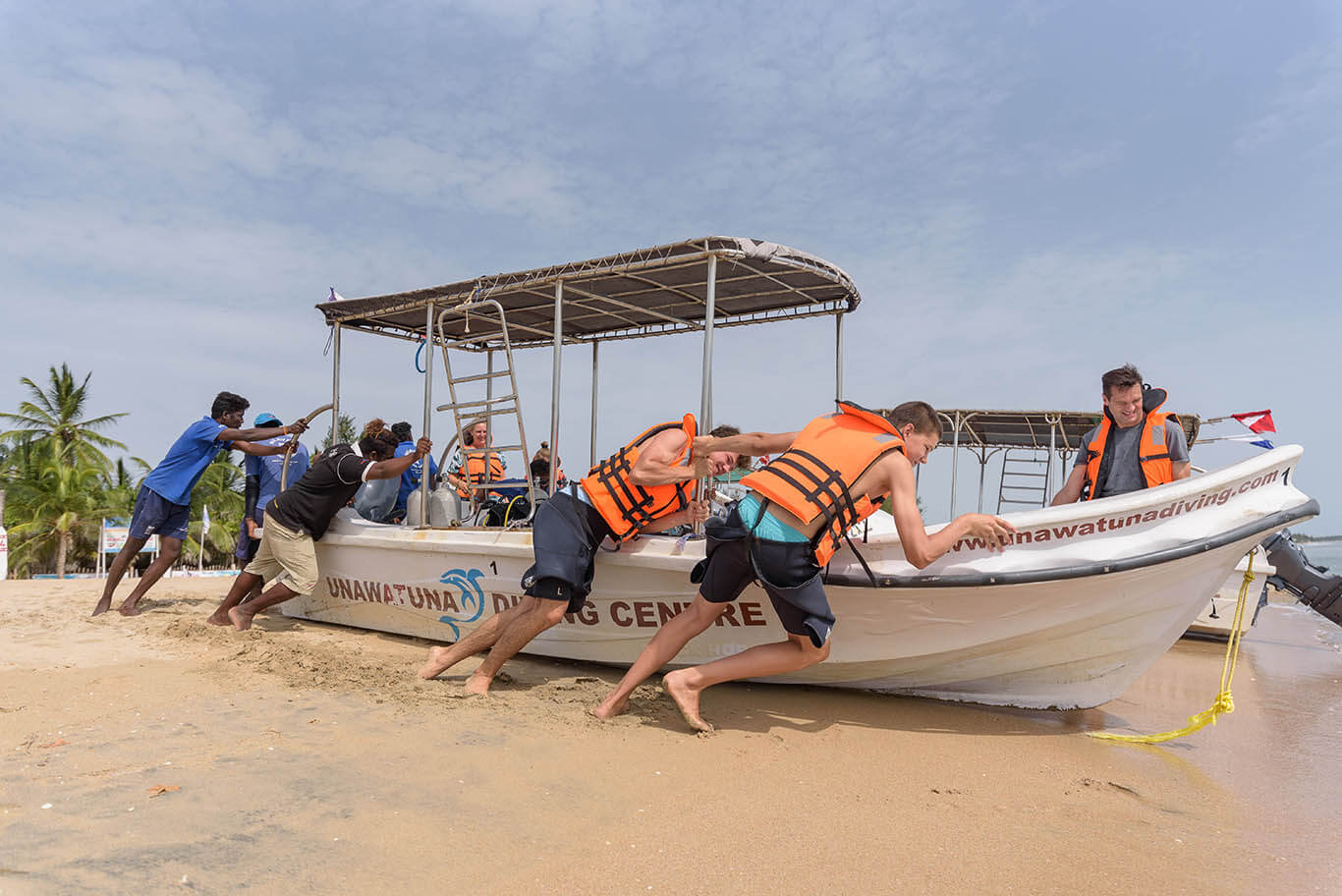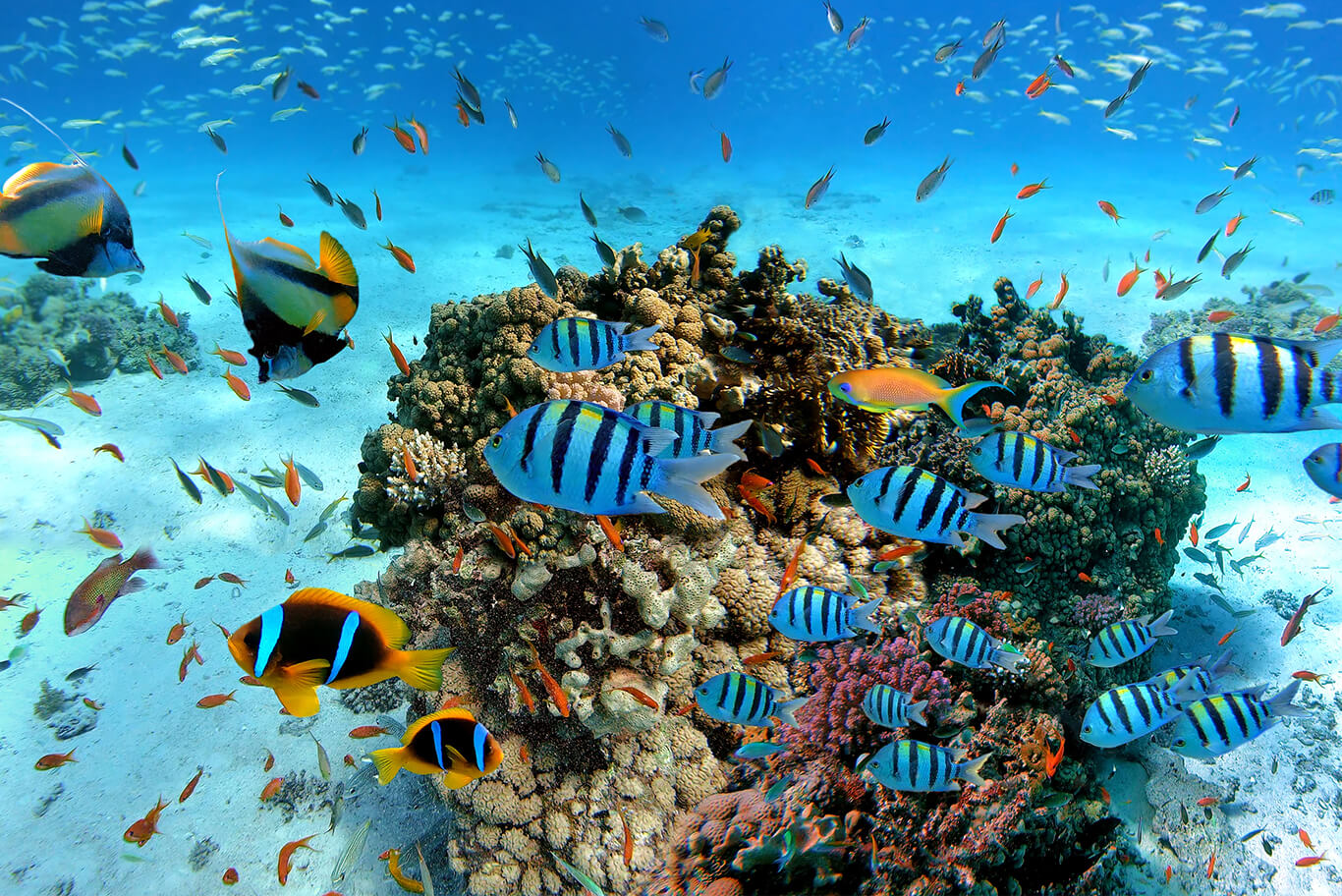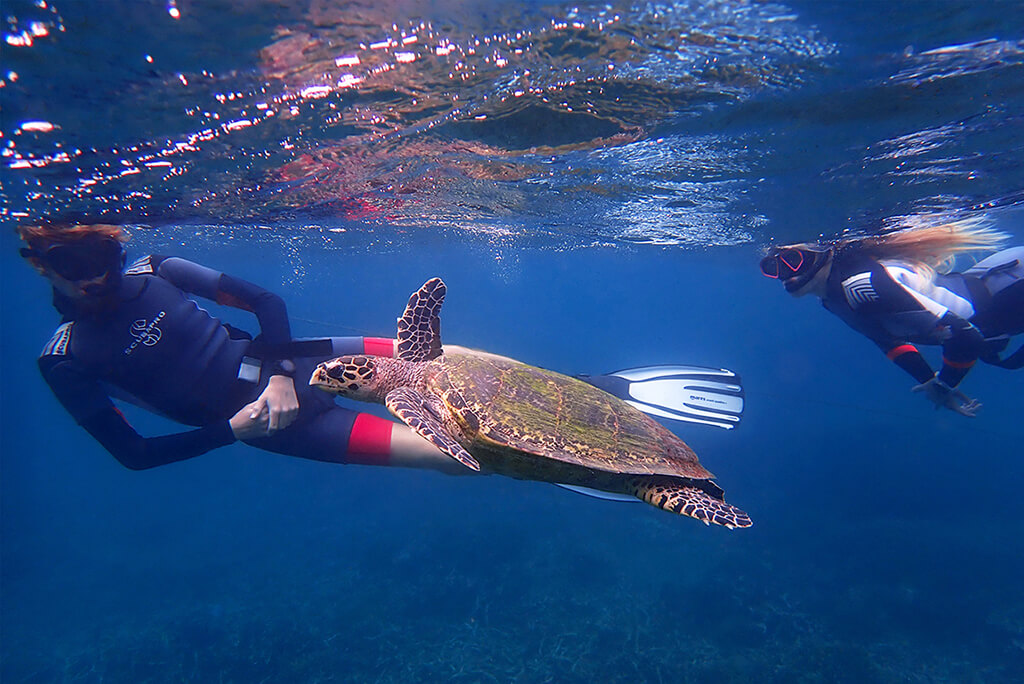 Divinguru Unawatuna offers two snorkeling spots for those who want to discover snorkeling or explore the underwater world only with mask, fins and snorkel!
Season: 15th October – 10th April
During the snorkeling trip we introduce you our colleagues: angelfish, parrotfish, triggerfish, pufferfish, schooling bannerfish and if you search properly you might find stingrays and turtles!
Unawatuna Bay
The Unawatuna Bay is not only a world famous beach on land, but offers a great underwater experience, too. With its many shallow spots, it is also the perfect place for snorkeling. A small ship wreck along with rocks, recovering corals  and colorful fish of the Indian Ocean offer a fun experience to snorkelers.
Unawatuna Rocks can be reached in a few minutes by boat from our diving centre. Duration of the snorkeling trip is around 2 hours.
Jungle Beach
Only a few kilometers down the road, between Unawatuna and Galle, you'll find Jungle Beach Bay. The bay is an insider tip, with a beautiful beach and very shallow entry points; which makes it a great place for snorkeling.
Here you can snorkel from the shore and from the boat. This trip takes around 3 hours in total.
*Read before
In 1997 "El Niño" the warm phase along with increasing temperatures of the ocean and the coral bleaching event, followed by tsunami in 2004 caused considerable damage to coral reefs of Sri Lanka. Since this time coral started rejuvenating at a very slow rate.
Please note that the visibility of the water depends on many factors (tides, wind, etc.) which disturb the bottom composition. We cannot guarantee great visibility at all times.
Watch the underwater world from the surface
Snorkelling is a relaxing activity for the whole family, children, and adults of all ages. It can be also the first step into diving or simply an alternative.
boat transfer
local guide
snorkeling equipment – mask, fins, snorkel
life jackets
water
free pick-up (south within the distance from Mirissa to Hikkaduwa; east from Trincomalee to Kuchchaveli)

kids from 6 until 12 are half price
"The Snorkeler's Paradise"
Snorkeling in Nilaveli & Trincomalee area is the absolute highlight of your stay on the east coast. You experience the most vibrant coral reefs of Sri Lanka, soft and hard corals, schools of colorful fish and different coral fish of the Indian Ocean.
Season: 15th March – 30th October
The Pigeon Island is the only National Marine Park on the north-east coast of Sri Lanka. Surrounded by turtles, tropical fish, searching for Black Tip Reef Sharks.
Pigeon Island
In the area of ​​Pigeon Island, 1 km from the diving base, you'll see colorful corals, eels, small groups of different fish or colorful drawn boxfish. Let yourself drift while iridescent parrotfish and damselfish pass slowly. Filigree lined sweetlips fish standing elegantly in the flow, butterflyfish and bannerfish dancing before the dark blue curtain of the sea.
Around the main island you have chance to spot different species of turtles, various species of rays and even Blacktip Reef Sharks.
All prices exclude the entrance ticket to the Pigeon Island. Entrance fees to the Pigeon Island National Marine Park are calculated and paid directly in our diving centre before the departure, depending on the number of participants on the boat. Or agreed while confirming the price in advance. The entrance ticket cost around 40 Euros/adult and it's paid on arrival to our diving centre only in cash in LKR.
Snorkeling trips from Nilaveli take around 3 hours in total. You reach Pigeon Islands within a boat ride of around 20 minutes and a duration of around 2 hours snorkeling from the shore around the main island.
Coral Reef Nilaveli
The perfect place for discovering different types of hard and soft corals. Shallow area with clear water visibility. You find here vibrant coral reefs with small colorful tropical fish or even a turtle!
Located close to the Pigeon Island but No ticket required.
Snorkeling trips from Nilaveli take around 3 hours in total.
Season: 15th April – 10th October
Explore fascinating rock formations with colorful coral reefs, diverse aquatic life, underwater statues of gods and large schools of tropical fish.
Swami Rock
This snorkeling and diving spot is located right below the oldest temple in Trincomalee (Koneswaram temple).
Around the rocky area you can find large schools of fish, eels, rays, trumpetfish, groupers and other species of tropical fish.
Swami rock is famous for its rich history with many myth and legends. Below the surface can see underwater statues of Buddha, Hindu gods (Shiva, Ganesha, etc.), max 80 cm tall.
Snorkeling trips from Trincomalee take around 2 hours in total.
Navy Island
Shallow area with interesting rock formations, hard and soft corals. You'll be surrounded by different species of marine life, such as eels, nudibranchs, octopus, scorpionfish, lionfish and other exotic fish of the Indian Ocean.
Snorkeling trips from Trincomalee take around 2 hours in total.
Arrival (8:30 | 13:30)
Upon your arrival at the base, you will be welcomed by one of our local and international Divemasters and Instructors. You fill out the necessary paperwork and make your payment. We accept both card and cash.
Preparation
Then you are sized up for your equipment, if you aren't already carrying your own snorkeling equipment.
Then you will have a short briefing about important information of the snorkeling sites, important local procedures, safety procedures, recall procedures, attractions of the snorkeling site and marine life.
Departure (9:00 | 14:00)
Finally, we cast off! Most snorkeling sites can be reached within 10 minutes.
Snorkeling
We snorkel always in small groups. Enjoy the surroundings in your own pace and speed. 
Our local boatmen will show you the best spots where you can spend 2 to 3 hours discovering the fantastic underwater world.
Return (11:00 | 16:00)
Once you return to the diving centre, our staff shows you our washing place where you can wash both private and rental equipment and have a shower. 
You are always welcome to share your snorkeling experience and we help you to identify all the different kinds of marine life you saw during your snorkeling trip.
Snorkeling & diving help to create a bond between people, all coming from different parts of the world, but all sharing the same love for the ocean, and we provide a platform for just that.