from 15th March to 25th October
Our Nilaveli Diving Centre was opened in 2010, in the same year accredited as PADI Dive Resort. In 2016 was upgraded into the PADI 5 Star IDC Dive Resort. In 2021 reconstructed under new brand Divinguru®. You find our brand new diving centre directly on the Nilaveli Beach.
We share our diving passion through PADI Courses, Fun Dives and Beginner Try Diving. We also offer Snorkeling and Whale Watching.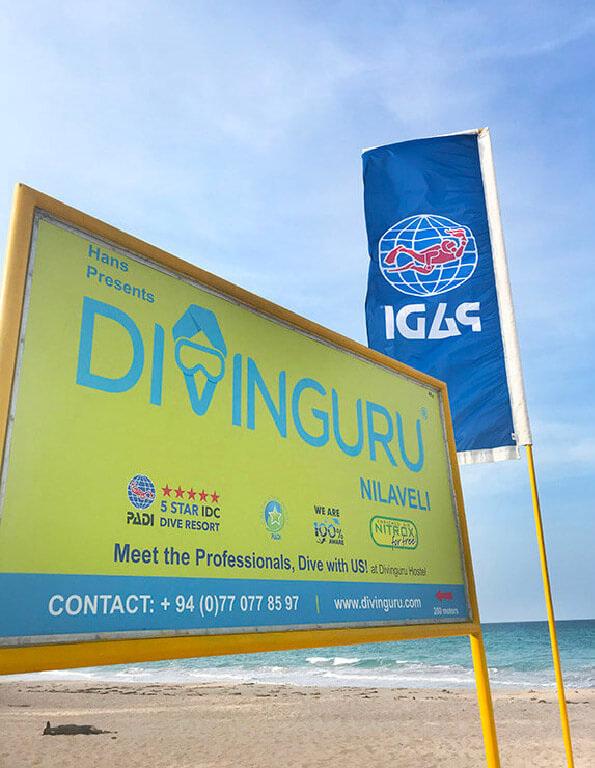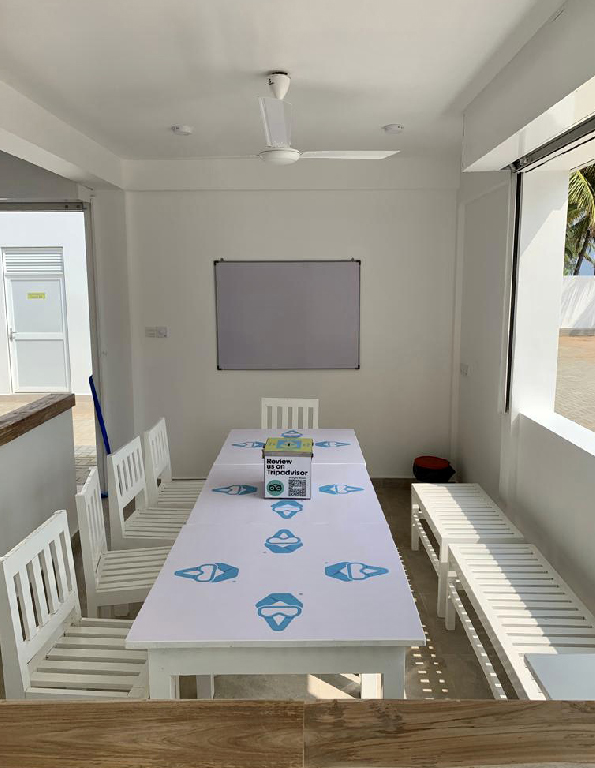 We have around 30 complete sets of rental dive equipment, mainly ScubaPro (BCD, Regulator, Mask, Fins, Belts, Weight) of all different sizes in the stock. Everything in high quality and well maintained. We offer a wide variety of gear so people of all statures and ages will find something that suits them. For diving in Sri Lanka we use 3 mm shorty wetsuits.
Divinguru Nilaveli is located directly on the long peaceful Nilaveli Beach at Divinguru Beach Resort.
Our diving centre has inside and outside sitting area, an equipment room, changing room, a school room for teaching courses, a compressor room, office area, a shower area and a toilet. We have a large cleaning basin for the equipment and shady area for drying it.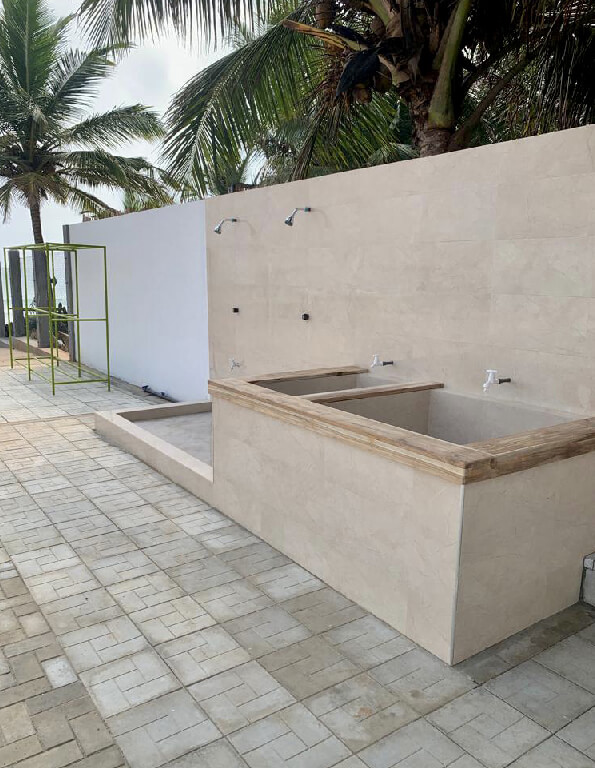 Our 7 diving boats are powered by environmentally friendly four stroke Yamaha engines, with a roof and shade available. Every boat has capacity of maximum 5 divers and one dive guide (Divemaster or Dive Instructor).
First class compressors (made by BAUER, Germany) speedy fill our eighty 12 L Aluminum Diving Tanks with DIN or INT connectors. For children we provide also four 8 L Aluminum Diving Tanks. We provide also NITROX (Enriched Air) free of charge. 
Customer safety is our main priority! Our dive briefings cover all safety and standard procedures. In addition, our diving base has a stationary Oxygen Supply and portable DAN Systems that are available on our diving boats. The boat guides, diving guides and Dive Instructors are all trained in first aid assistance. The crew often practice Rescue Trainings which you can also be a part of on request.
Snorkeling & Diving in Nilaveli
Diving and Snorkeling around the Pigeon Island
and other Nilaveli sites can be the most exciting part
of your holiday! Discover the underwater world
on the east coast with Divinguru!
Seasons
Dive Sites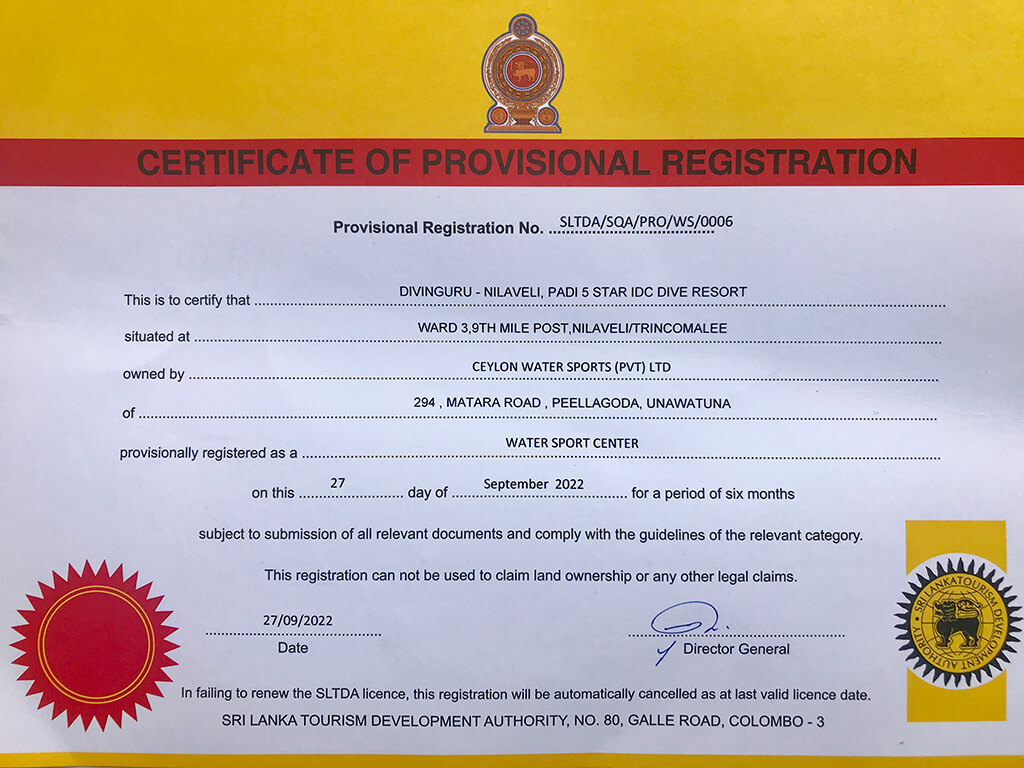 Both Divinguru Unawatuna and Divinguru Nilaveli are approved by Sri Lanka Tourism Development Authority.
SLTDA is the official government institution tasked with regularising the tourism industry in the country, planning, development, regulation, and policy implementation of tourism and related industries.
Your opinion is very important to us. By sharing your experience you can help other divers choose the best place for their holiday. Your contribution is also important for our further development and quality service. If you haven't shared your experience with us yet, please feel free to leave your comments and rating on Tripadvisor or/and Google Business.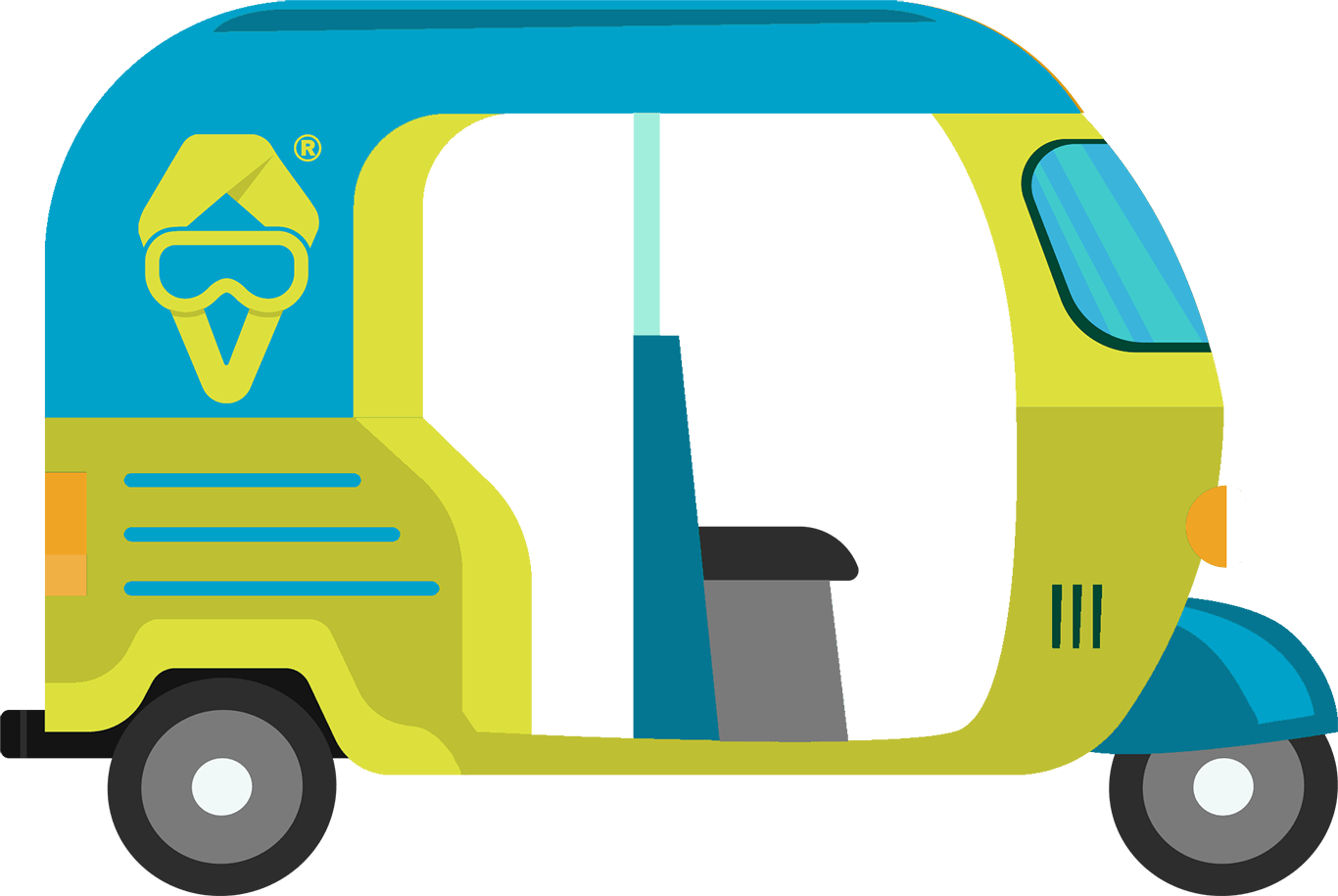 We offer free pick up between the distance from Trincomalee to Kuchchaveli (Trincomalee, Uppuveli, Nilaveli, Kuchchaveli).
Pick-up starts approximately 30 minutes (or depending on the distance) before check-in in our diving centre.
12 kilometers north of Trincomalee, Nilaveli road B24, in direction to the north to Pulmudai, 9th Mile Post, Ward number 3, beachside, at the "Divinguru Beach Resort". You can reach us both from the beach side or the main road.
Email
info@divinguru-nilaveli.com
Address
Ward No. 3, 9th Mile Post,
Nilaveli/ Trincomalee
Post Code: LK 31010
Explore more
At our other dive centres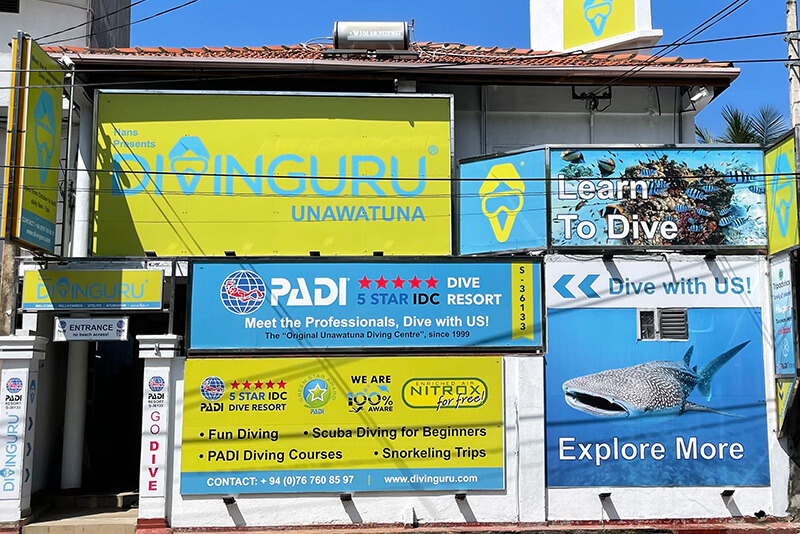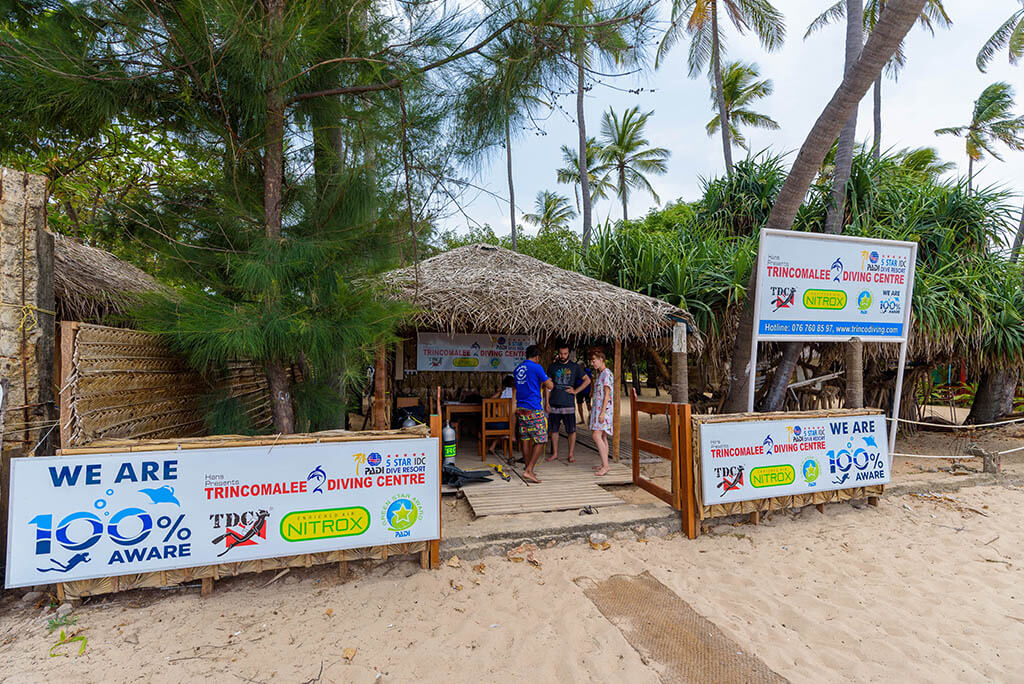 Frequently asked questions
How can I get from the Airport to Nilaveli?
1) Third Party Car or Van arranged by us
You can book with us a transfer from the International Airport in Colombo or from Colombo City
or any other destination in Sri Lanka through the Online Booking form on our website. For 2 person with an AC Car with driver from Colombo Airport or Colombo City costs 110 Euro one way. Any additional person from the age of 12 years old 5 Euro on top of the 110 Euro.
2) By Car or Van at the Airport
After your arrival at the International Airport in Colombo, you will find at the arrival hall of the airport 4 or 5 booths with car rental service. They provide transport (car with driver) to any destination in Sri Lanka with a fixed rates.
3) By Plane
You can also fly every Monday, Wednesday, Friday and Saturday at 7 am from the domestic airport RATMALANA, 
south of Colombo to Trincomalee with HELITOURS, with a 50 seater turbo prop plane from the airforce. 
It cost currently around 30 Euro one way per person only and the flight takes around 45 minutes only.
The flights back from Trincomalee to Ratmalana are at the same week days at 4.15 pm.
More information on their website: www.helitours.lk . 
The purchase of the tickets is only possible in person at the Colombo Helitours Ticket Office or
at the China Bay Airport in Trincomalee.
From the Trincomalee Airport "China Bay" you can take a Tuk Tuk to Nilaveli. It takes around
30 minutes and cost 2500 Sri Lankan Rupees. 
Call our friendly Tuk Tuk driver "SUPUN" at the Airport China Bay, 0094 (0)77 96 58 989 for Pick Up .
4) By Bus
There are also daily night AC Busses at around 11 pm from Colombo Private Buss Station,
The daily night AC Busses from Trincomalee to Colombo leaving daily at around 11 pm from
Trincomalee bus station.
5) By Train
There is also a daily trains from the Colombo Fort Railway Station to Trincomalee Railway Station in the
evening depart at around 9.30 pm. The train will arrive Trincomalee at around 5.30 am in the morning.
The train from Trincomalee Railway Station to Colombo Fort Railway Station depart every evening at
7 pm and will arrive Colombo Fort Railway Station at 3.30 am in the morning.
For Tuk Tuk transfers from Trincomalee to Nilaveli you can call our friendly TUK TUK Driver "DINU".
Call "DINU" under +94 (0)77 84 21 298 for Pick Up. 
The TUK TUK rate from Trincomalee to Nilaveli will be around 1500 Rupees.
What is the best time to spot Whales and Dolphins on the east coast?
Most sightings occur between March/April and August/September, as whales continue their migrations around the island from the south coast (where they mainly congregate from December to April) – this means that Sri Lanka offers around ten months of continuous whale & dolphin watching annually at different points around the coast.
Do you offer trips to the Pigeon Island?
Yes, thanks to our perfect location (around 1 km from the Pigeon Island), we offer daily diving and snorkeling trips. The best how to discover the famous Pigeon Island is while snorkeling. You'll be surrounded by black tip reef sharks (only while snorkeling) and when you have a look closely you find turtles, trumpetfish, octopus, triggerfish and many other fish of the Indian Ocean.
Dive sites around the Pigeon Island are perfect for beginners or divers who want an easy relaxed time underwater, the maximum depth is between 10 to 12 metres.
Do you offer accommodation?
Yes, we offer accommodation and restaurant on site. Enjoy your stay with us in our Divinguru® Beach Resort. We offer modern accommodation suitable for whole family, couples or diving groups. For more details visit our Divinguru® Beach Resort website.