At Unawatuna, we have around 16 different Dive Sites with different depths from 6 to 32 meters offering a vibrant variety of dives like Reef Dives, Rock Dives, Wreck Dives and Night Dives.  Most of the reef dive sites have a mix of hard and soft corals going to the depth of 18 meters.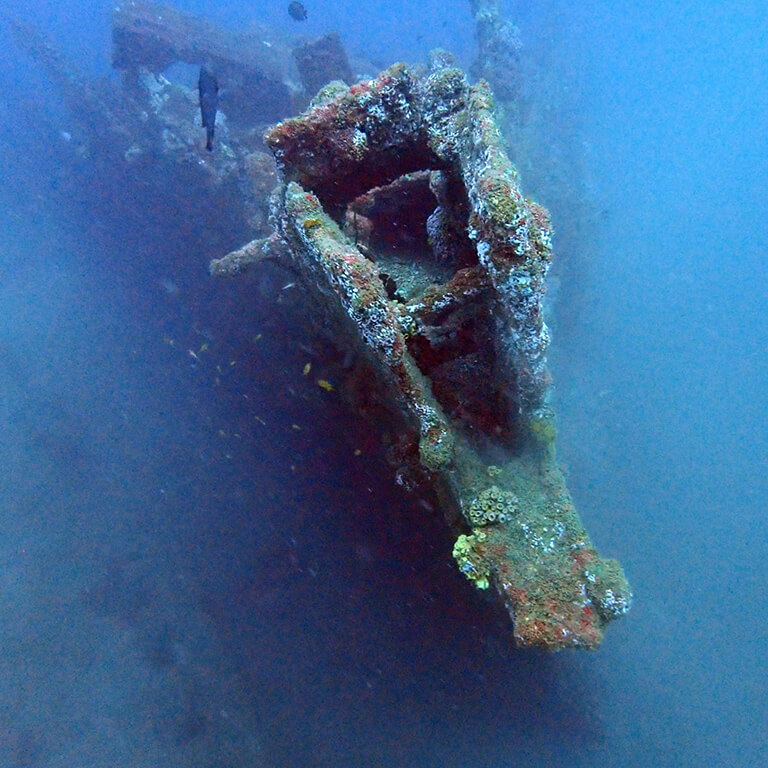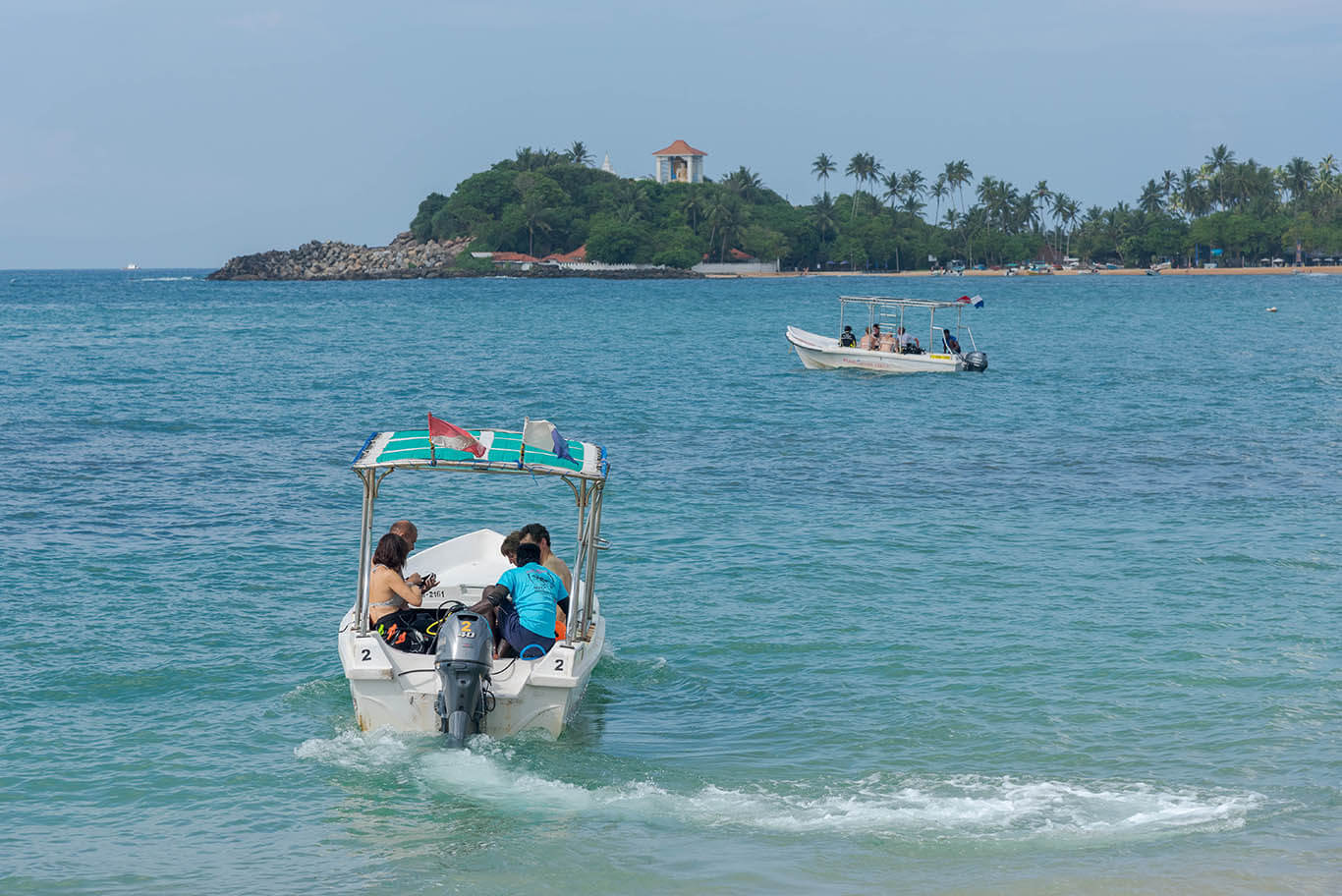 In 1997 the "El Nino" surface current with high water temperatures reached the west and south coast of Sri Lanka and bleached a lot of the coral reefs. Since this time coral started rejuvenating at a very slow rate.
At the deeper dive sites, the topography consists of mostly rocky areas with deep valleys and swimthroughs to explore. Close to the Galle harbour, there are magnificent wrecks on sandy grounds giving home a number of species of corals and fish life. The famous "Rangoon" Wreck lies at a depth of 30 meters, the SS Orestes, at a depth of 22 meters, and the Galle Ship Wreck at a depth of 18 meters.
At the reefs, you will find a lot of macro life, many different nudibranchs, different coral reef fish of the Indian Ocean, stingrays on the sandy bottom, and might also be visited by some Napoleon Wrasses.
Most of the soft corals and fish life are at the two deeper wrecks, accompanied by schools of Sweet Lips and Moray Eels. Barracudas, Trevallies, Stingrays are also mostly spotted there. During the months of January up until March, Whale Sharks may pay a visit if you get lucky.
Diving in Unawatuna is a beautiful experience and is a great place to start diving with the variety of experience levels it has to offer.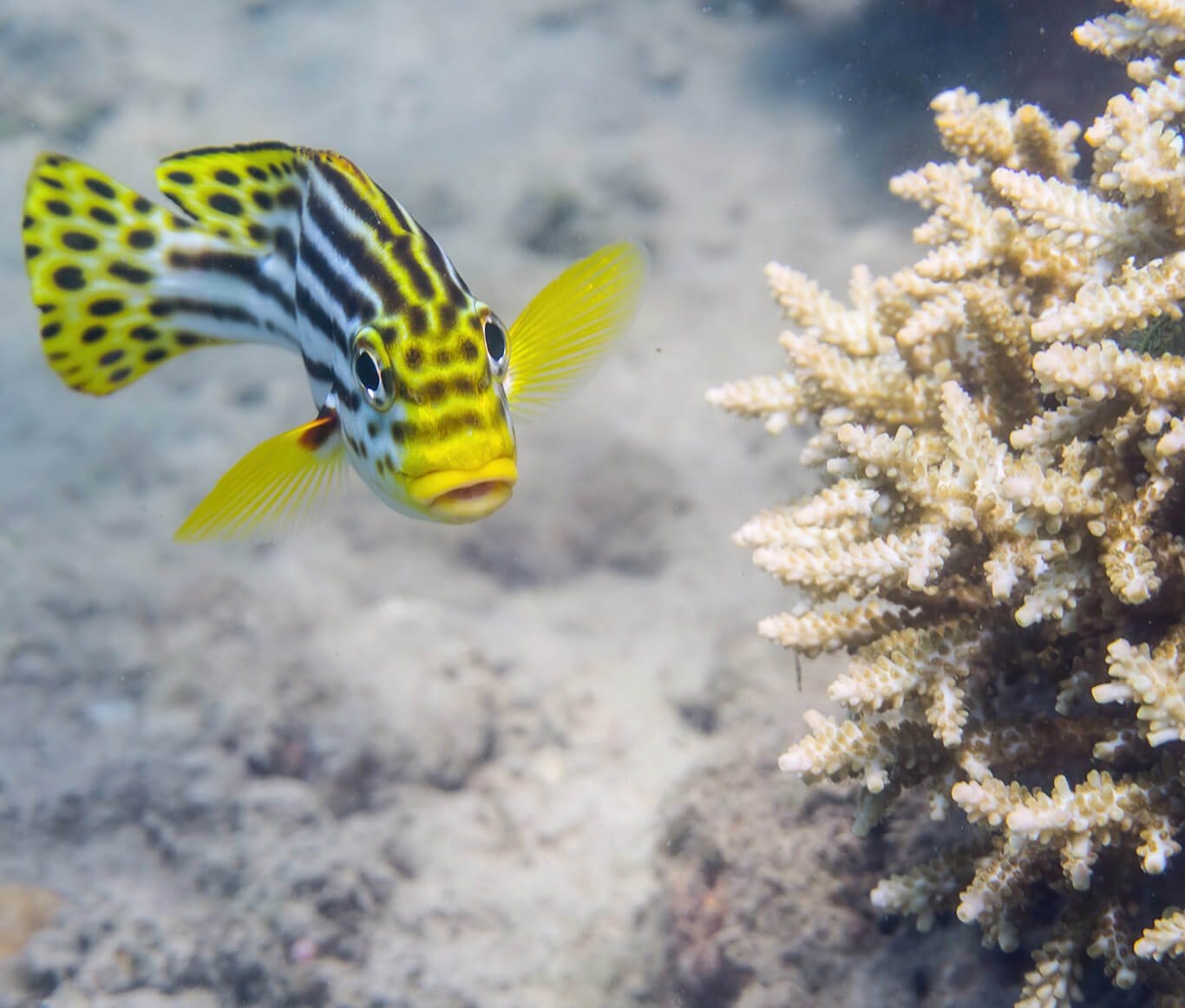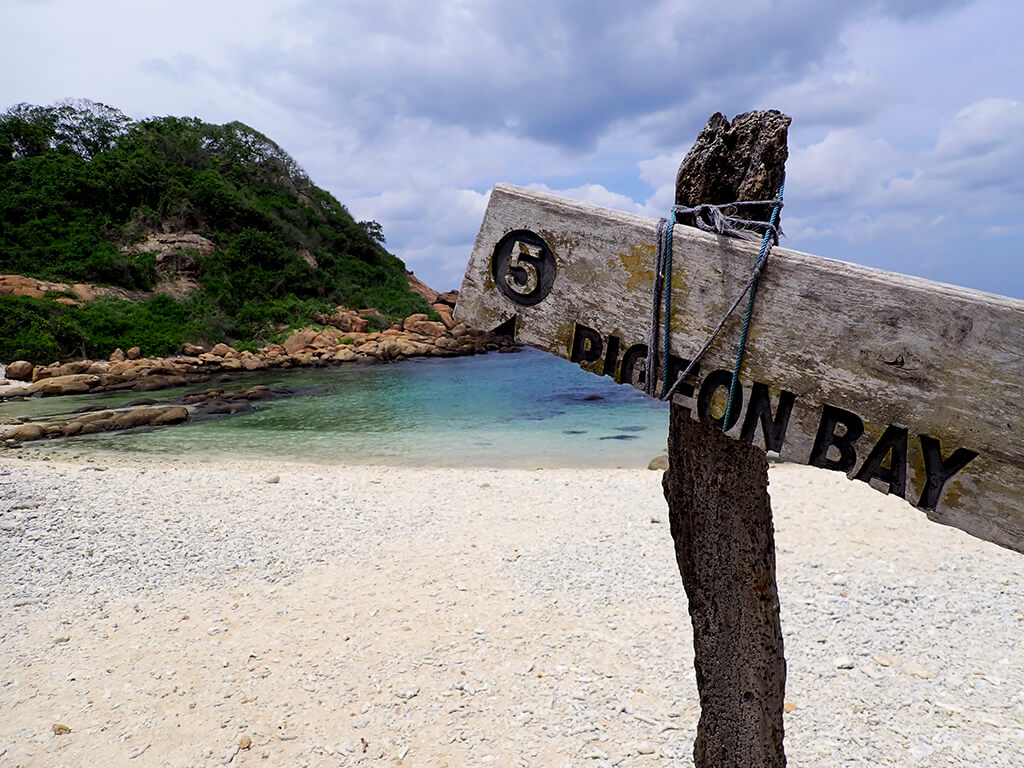 The Nilaveli Dive Sites are mostly shallow up to max. 18 m. At these shallower dive sites you will find a lot of different hard, soft and table corals and a lot of different coral fishes of the Indian Ocean, Barracudas, Trevallies, Stingrays and other kind of fishes. Time to time Whale Sharks can be spotted.
There is also a lot of macro staff to see. It is the perfect place for new certified open water and not so experienced divers as well as for relaxed advanced divers.
Good wrecks are rare in Nilaveli. Only north of Nilaveli there is one very shallow wreck up to 8m. In 2020 the Underwater Museum in Trincomalee was opened and since then we have one new wreck spot to dive on the east coast. The deepest point of the wreck in Trincomalee is at 18 meters depth and it goes up to 5 meters. Great for beginners, advanced divers and wreck diving lovers.
East coast
Nilaveli & Trincomalee
At our 22 Nilaveli & Trincomalee Dive Sites with different depth from 6 to 30 m we offer Reef Dives, Rock Dives, Wreck Dives, Deep Dives, Night Dives and combined Diving & Snorkeling Trips to the famous Pigeon Islands.
The shallow dive sites around the Pigeon Island Marine Park are mostly covered by hard and soft corals with a lot of different coral fishes, turtles and for sure Black Tip Reef Sharks in the shallow parts of the coral reef, available for snorkeling only.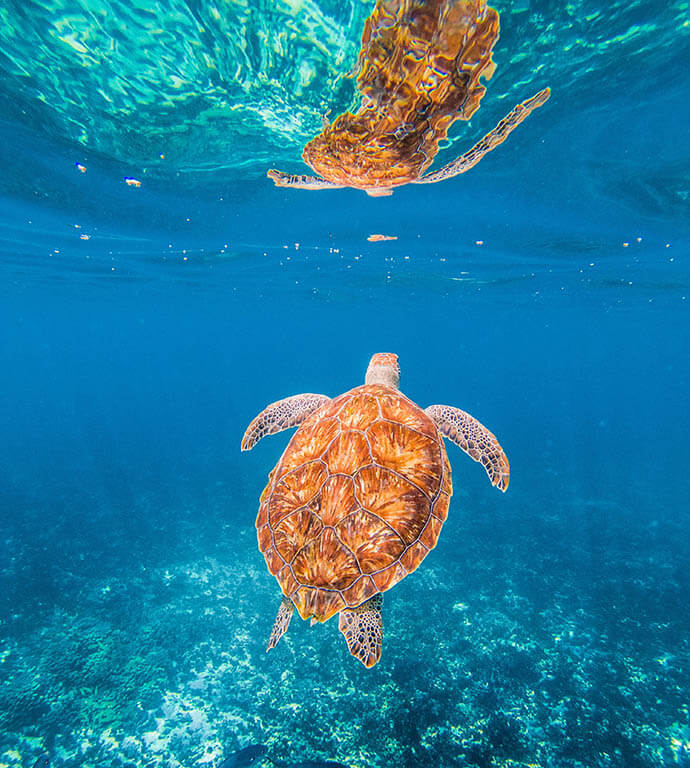 At our Trincomalee Dive Sites around 6 km south of Nilaveli there are also deeper sites up to 30m to discover. The bottom at the deeper dive sites is mostly sandy or rocky. Mostly you can spot big schools of Barracudas and Trevallies as well as Sting & Electric Rays and Moray Eels.
Sometimes you can also see Whale Sharks but these are really rare. You can be happy when you can spot one of these creatures.
Explore fascinating rock formations with colorful coral reefs, diverse aquatic life, underwater statues of gods and large schools of tropical fish. Also possible to visit recently opened (2020) Underwater Museum or a Shipwreck, both located near to the Trinco town.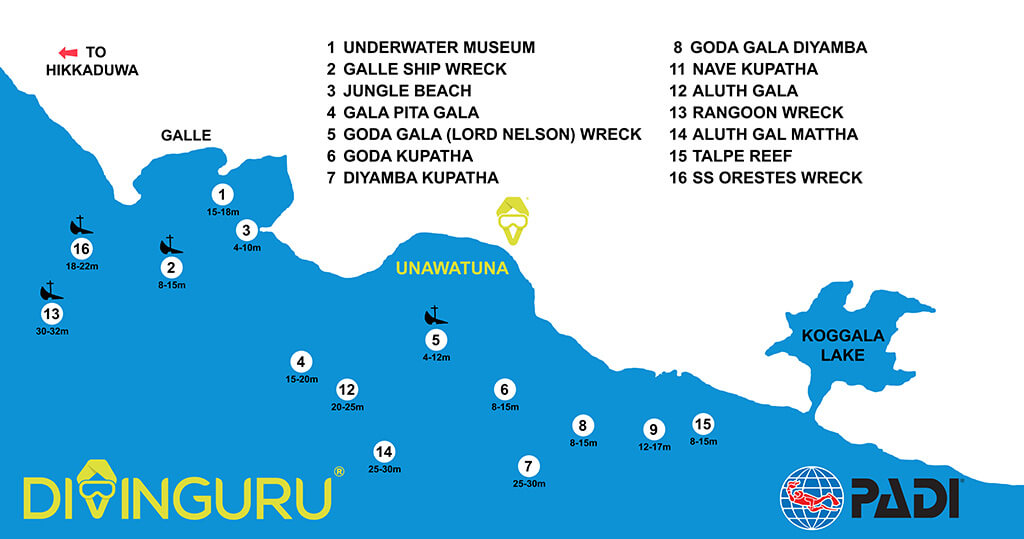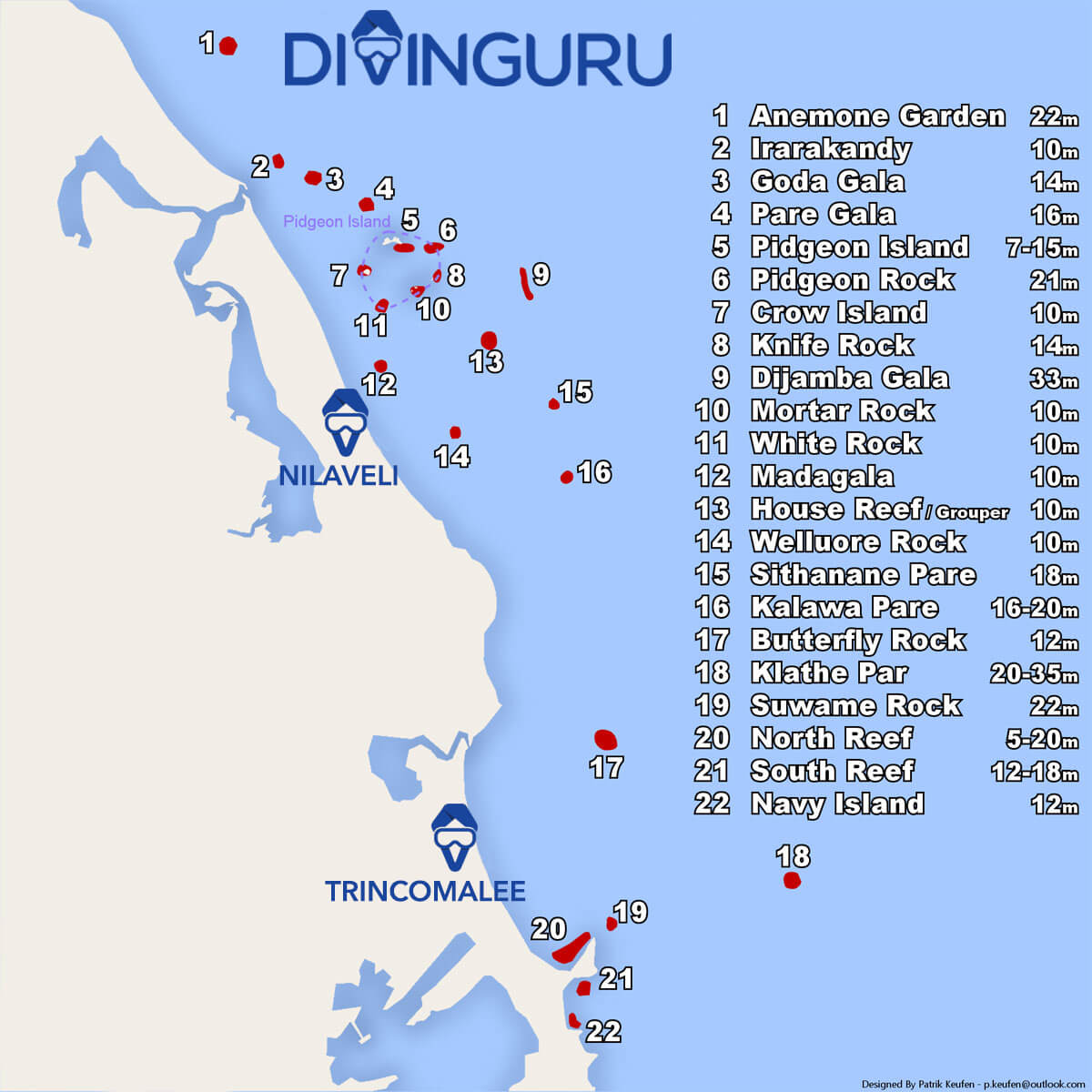 Frequently asked questions
What's the best diving in Sri Lanka?
The main attractions in Unawatuna and in Sri Lanka are a lot of wrecks around the coast line suitable for all diving levels. We offer diving at the famous Wreck "RANGOON" that does down to 30 meters, the Wreck SS Orestes that goes down to 22 meters, and the Galle Ship Wreck at around 18 meters.
In Nilaveli/Trincomalee clear calm sea is waiting for you. You'll be surrounded by different colorful fish of the Indian Ocean and magnificent hard and soft corals. The most popular is the Pigeon Island, located a few minutes from Divinguru® Nilaveli, where you can experience snorkeling with turtles and black tip reef sharks.
What marine life I can see?
Every dive is unpredictable and unique, that's why diving is so exciting. As we go off the shore we are in the real nature and not in a zoo so we cannot promise or guarantee to see particular wild animals. However we guarantee that our team makes maximum to find them and fulfill your expectations.
Marine life you may see include: Stingrays, Eagle Rays, Turtles, Moray Eels, Nudibranchs, Cuttlefish, Octopus, Barracuda, Trevally, Angelfish, Triggerfish, Soldier Fish, Surgeon Fish, Pufferfish, Fusiliers, Lion Fish, Sea Stars and many other coral reef fish. Whale Sharks can be spotted on both east and south coast. Black Tip Reef Sharks you find on the famous Pigeon Island, located a few minutes from our Divinguru® Nilaveli Resort. Whales and Dolphins can be spotted around Trincomalee while Whale Watching. If you get really lucky, time to time you might see them in Unawatuna too.
Which dive sites I should dive?
Depends what you would like to see and what you are interested in. In Sri Lanka we have many amazing dive sites with wrecks, coral reefs, swimthroughs, rock formations, schools of tropical fish, etc.
Our Divemaster or Instructor will show you the most interesting dive sites in that particular area and suggest the best dive sites suitable for all divers in the group. Considering not only your demands but mainly your certification limits.
What is the underwater visibility and temperature?
Please note that the visibility of the water depends on many factors (tides, wind, etc.) which disturb the bottom composition. We cannot guarantee great visibility at all times. However we check the forecast frequently so we can advise you the best time for diving or other activities.
Underwater Visibility: In average 5 to 30 m, depends on the weather conditions, the current and tides.
Outside Temperature: 26 Degrees Celsius to 32 Degrees Celsius the whole year round.
Water Temperature: 27 Degrees Celsius to 29 Degrees Celsius the whole year round.
Where is the best wreck diving in Sri Lanka?
You can find many nice wreck diving spots around Sri Lanka. Famous wrecks are around Colombo where you can dive during the south-west season starting in November until April.
In Unawatuna (south coast, season from October-April) we have three wrecks. For beginners you can enjoy diving and snorkelling around the wreck in Unawatuna Bay, maximum depth around 6 meters. For advanced divers there are two wrecks Rangoon and SS Orestes. Rangoon wreck lies in depth of 30 meters and it's relatively broken up. The SS Orestes wreck is more intact wreck in depth of around 22 meters.
In Nilaveli, Trincomalee (east coast, season from March-October) we have fewer wrecks. One broken up in depth of around 8 meters. What worth seeing is the Underwater Navy Museum in Trincomalee, opened in 2020. As a part of this museum you can see two big intact shipwrecks in depth of max. 18 meters. Great for all wreck lovers, student divers, beginner and qualified divers.