Advanced Open Water Diver Course
Age: min age 12 years old
Medical Check: basic swimming skills, medically fit for diving
*Please check the PADI Medical statement (link) carefully before diving with us. Must be filled before the course starts.
PADI Advanced Open Water Diver
For Qualified Divers (min OWD)
Exploration, Excitement, Experiences! That's what the PADI Advanced Open Water Diver course is all about. You don't have to be "advanced" to take it – it's designed to advance your diving, so you can start right after earning your PADI Open Water Diver certification. Continue your diving education with Divinguru in Sri Lanka!
* online price, does not include certification and teaching materials, in total 70 €
You'll try out different specialties while gaining experience under the supervision of your PADI Instructor. You log dives and develop capabilities as you find new ways to have fun scuba diving..
The course helps build confidence and expand your scuba skills through different Adventure Dives. You will love the Advanced Open Water Diver course, because you are able to choose from 15 different adventure dives together with your diving instructor to complete your course. You have a lot of possibilities, such as night diving, digital underwater photography, wreck diving, peak performance buoyancy and even more.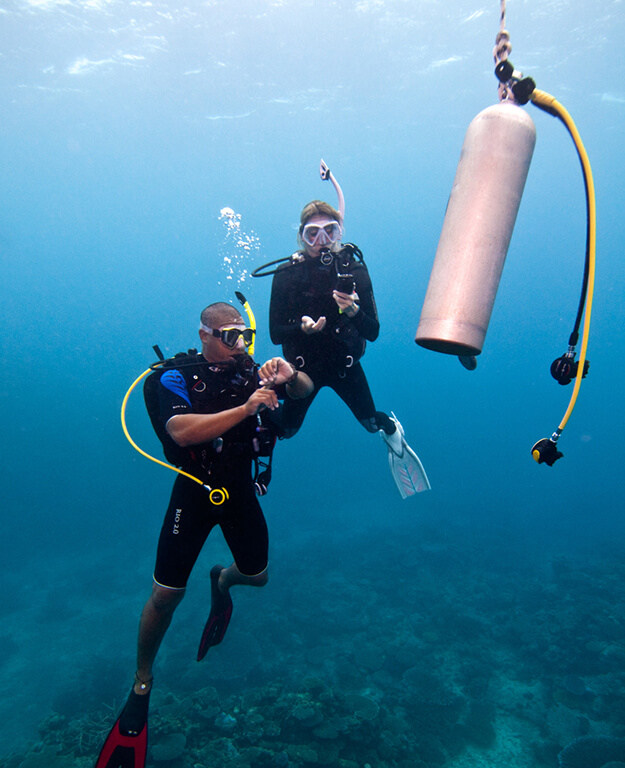 The Open Water Diver course can be completed in a minimum of 3 days. If you should be short of time we recommend you to participate in the PADI AOWD eLearning programme before your holiday.
This helps to reduce length of the course for about half a day. With this you acquire the theory with PADI learning texts and videos on your Computer or Tablet and can start to dive as soon as you arrive. Please note you have to purchase also the Advanced Open Water Manual (if choosing eLearning) on PADI website.
The final price with PADI eLearning is almost the same when you do the theoretical part in our dive centre. The advantage is that you learn the theory in advance and take the exam anytime, anywhere. You save about half a day of your course duration and can enjoy your vacation more, for example with additional dives after your PADI Course.
Please schedule a minimum of 3 – 5 days for your ADVANCED Open Water Diver course in any case, because we cannot start a course with single person every day.
Knowledge Development eLearning (online, independent study) or in our diving centre with our instructor
Five Open Water Dives to use your skills and explore!
You'll plan your learning path with your instructor by choosing from a long list of Adventure Dives. There are two required dives – Deep Dive and Underwater Navigation – and you choose the other three, for a total of five dives.
During the Deep Dive, you learn how to plan dives to deal with the physiological effects and challenges of deeper scuba diving. The Underwater Navigation Dive refines your compass navigation skills and helps you better navigate using kick-cycles, visual landmarks and time. The other knowledge and skills you get vary with your interest and the adventures you have – photography, buoyancy control, fish identification, exploring wrecks and many more.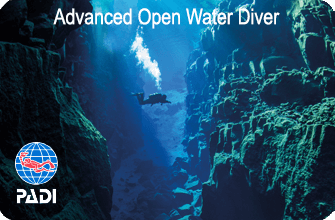 Schedule
How the course run?
Day 1
Upon your arrival at the base, you will be welcomed by one of our local and international Divemasters and Instructors. You fill out the necessary paperwork, medical statement and make your payment. We accept both card and cash.
First you meet your instructor and decide which adventure dives you do for your Advanced Open Water Diver course. Then you start in classroom with theoretical part for each adventure dive (knowledge reviews, quizes and final exam) for around half a day.
Day 2 & 3
You need also 2 or 3 days for 5 Adventure Dives (Navigation, Deep, Boat, Peak Performance, Buoyancy, Wreck etc.) with one of our PADI dive Instructors.
Please be aware that the availability of Adventure Dives (Night or Wreck) depends on the weather and sea conditions of the day.
You demonstrate skills you've learned and explore more the underwater world!
Advanced Open Water Diver Course
• 3 days
• theory in diving centre (classroom lesson with instructor)
• equipment included
• refreshment
• free pick-up
* Excluded: PADI certification and teaching materials, total 70€
Advanced Open Water Diver Course with eLearning
• 2 days
• independent study
• equipment included
• refreshment
• free pick-up
* You have to register and purchase the  AOWD Manual on PADI website (AUD 330)
Difference between
south and east coast.
Sri Lanka offers great diversity of dive sites. Differences between diving on the south coast and east coast are significant. You can find wrecks at 6 metres or even at 32 metres depth, magnificent coral reefs, swim-throughs and other specific dive sites.  To meet your expectations, please check what you can expect while diving on the south coast compared to the east coast HERE.
When is Sri Lanka diving season?
Diving in Sri Lanka is affected by two monsoons, south west and north east monsoons. The best time to dive in Unawatuna (south coast) is from mid October until April and in Nilaveli, Trincomalee (east coast) from mid March until end of October. It's simple, half year we are operating in Unawatuna and second half we are open in Nilaveli and Trincomalee.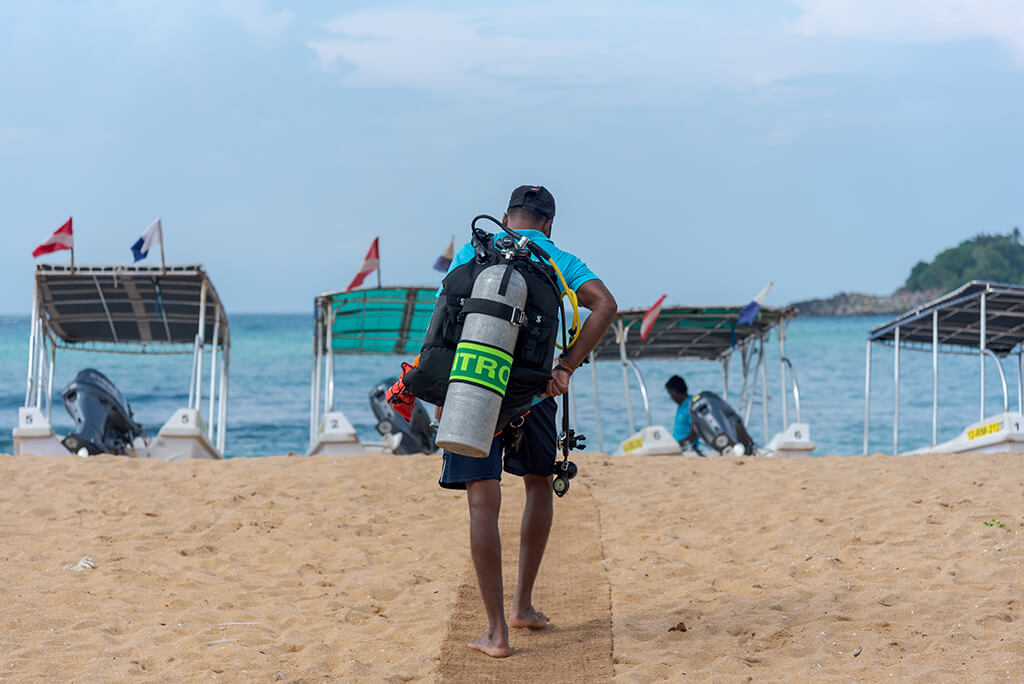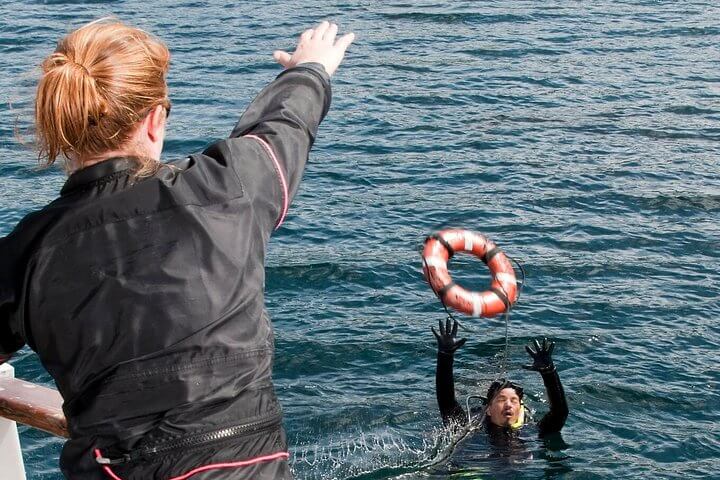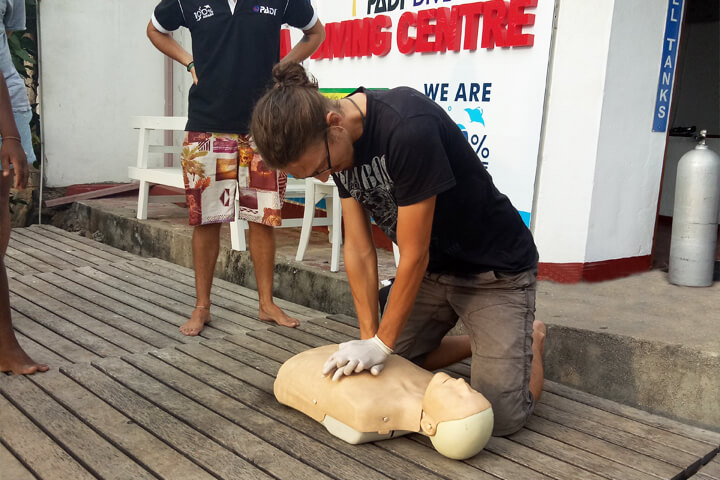 Frequently asked questions
Why should I take this course?
The Advanced Open Water Diver course gives you more experience diving under the supervision of an instructor. You'll learn new skills, meet new people and of course go diving! This course is also a great way to sample the different specialties on offer to see what interests you. It moves you to next scuba level by developing your knowledge and skills.
Can I study the theory at home?
Yes, you can study at home and after your arrival to our diving centre you complete the fun and most important practical part of your training.
But please keep in mind that you are responsible for studying and your own learning process. Without theory we might not be able to take you diving. Please read the relevant section about PADI eLearning on our FAQ page.
What Adventure Dives should I Choose?
The Deep Adventure dive and the Underwater Navigation Adventure dive are required components of the Advanced Open Water course. The other three Adventure Dives however can be any of your choice. Options range from Digital Underwater Imaging, to Peak Performance Buoyancy or Night Diver. Contact us and discuss with our PADI Instructor which adventure dives are available and suit you best.