Age: min age 10 years old
Medical Check: basic swimming skills, medically fit for diving
*Please check the PADI Medical statement (link) carefully before diving with us. Must be filled before the course starts.
PADI Open Water Diver
For Beginners (no experience required)
The world's most popular and widely recognized scuba course. If you've always wanted to take scuba diving lessons, experience unparalleled adventure and see the world beneath the waves, this is where it starts. Get your first scuba diving certification with Divinguru in Sri Lanka!
* online price, does not include certification and teaching materials, in total 70 €
Millions of people have learned to scuba dive and gone on to discover the wonders of the aquatic world through this course.
Your first breath underwater is something you will never forget! During this course, you learn the skills and knowledge needed to become a certified diver, get an understanding of how to use your equipment and care for it, how to manoeuvre underwater with all the gear, to dive with a buddy and understand safe diving practices, dive planning, and get comfortable with your buoyancy while respecting the environment you are surrounded. The course consists of 5 confined water sessions and 4 dives at local spots under the supervision of a PADI Dive Instructor.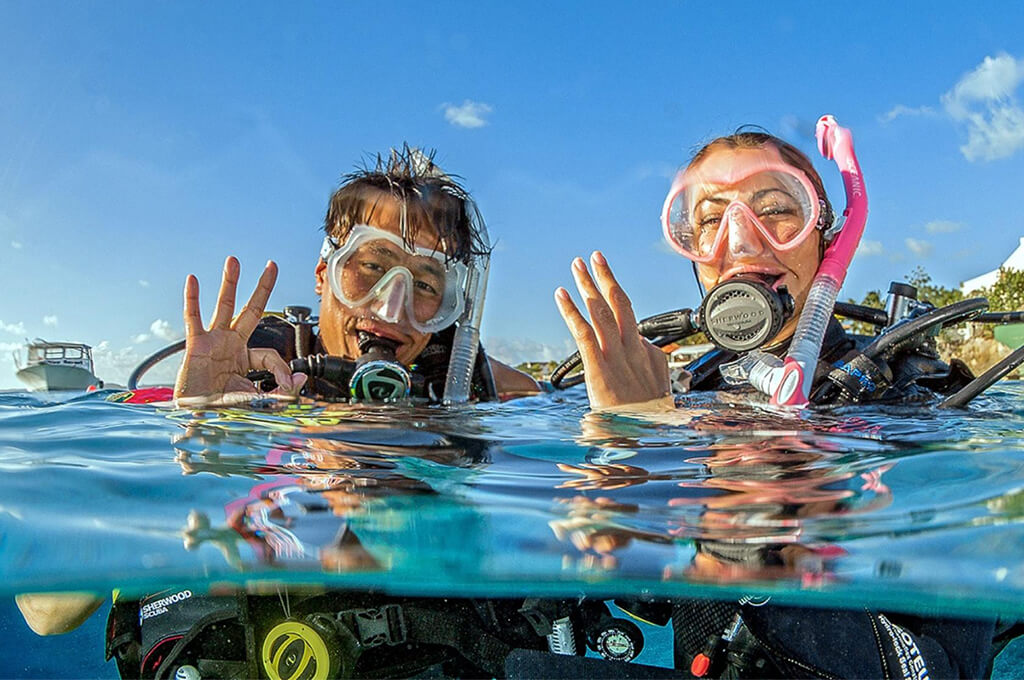 The Open Water Diver course can be completed in a minimum of 4 days. If you should be short of time we recommend you to participate in the PADI OWD eLearning programme before your holiday.
This helps reduce the course length by about one day. With this you acquire the theory with PADI learning texts and videos on your Computer or Tablet and can start to dive as soon as you arrive. Please note you have to purchase also the Open Water Manual (if choosing eLearning) on PADI website.
Knowledge Development eLearning (online, independent study) or in our diving centre (one day classroom) to understand basic principles of scuba diving
Five Confined Water Dives to learn basic scuba skills
Four Open Water Dives to use your skills and explore!
As a PADI Open Water Diver, you can dive up to 18 metres/60 feet deep anywhere in the world, lifetime. If you would like to take a next step the PADI Advanced Open Water Diver Course is waiting for you!
Schedule
How the course run?
Day 1 (8:30 - 16:00)
Upon your arrival at the base, you will be welcomed by one of our local and international Divemasters and Instructors. You fill out the necessary paperwork, medical statement and make your payment. We accept both card and cash.
First you start in classroom with theoretical part which includes videos, knowledge reviews, quizes and final exam for around half or one day.
Day 2 (8:30 - 14:00)
Second day you will start with practical skills. During the Confined Water Dives, you learn and practice scuba skills in a pool or water with pool-like conditions. You'll enjoy making one or more mini dives, which take you through the same steps you follow when you make open water dives (Day 3). 
Day 3 (8:30 - 13:00)
Now it's time to complete training you practice, apply and demonstrate what you learn during four Open Water Dives at a local dive site. Day 3 consists of 2 dives in the sea.
Day 4 (8:30 - 13:00)
Day 4 consists of 2 open water dives in the sea. You demonstrate skills you've learned and explore more the underwater world!
• 4 days
• theory in diving centre (classroom lesson with instructor)
• equipment included
• refreshment
• free pick-up
* Excluded: PADI certification and teaching materials, total 70€
Open Water Diver Course
with eLearning
• 3 days
• independent study
• equipment included
• refreshment
• free pick-up
* You have to register and purchase the OWD Manual on PADI website (around AUD 330)
Difference between
south and east coast.
Sri Lanka offers great diversity of dive sites. Differences between diving on the south coast and east coast are significant. You can find wrecks at 6 metres or even at 32 metres depth, magnificent coral reefs, swim-throughs and other specific dive sites.  To meet your expectations, please check what you can expect while diving on the south coast compared to the east coast HERE.
When is Sri Lanka diving season?
Diving in Sri Lanka is affected by two monsoons, south west and north east monsoons. The best time to dive in Unawatuna (south coast) is from mid October until April and in Nilaveli, Trincomalee (east coast) from mid March until end of October. It's simple, half year we are operating in Unawatuna and second half we are open in Nilaveli and Trincomalee.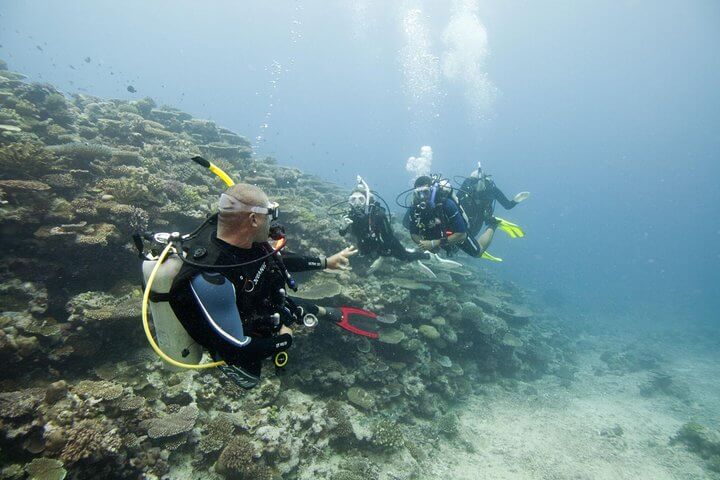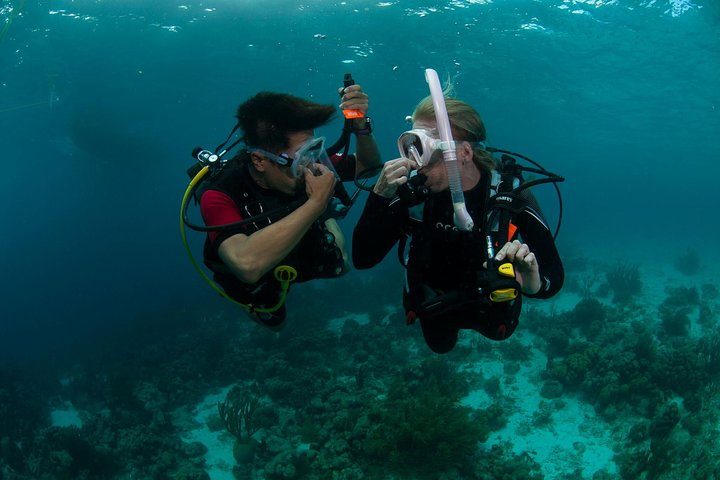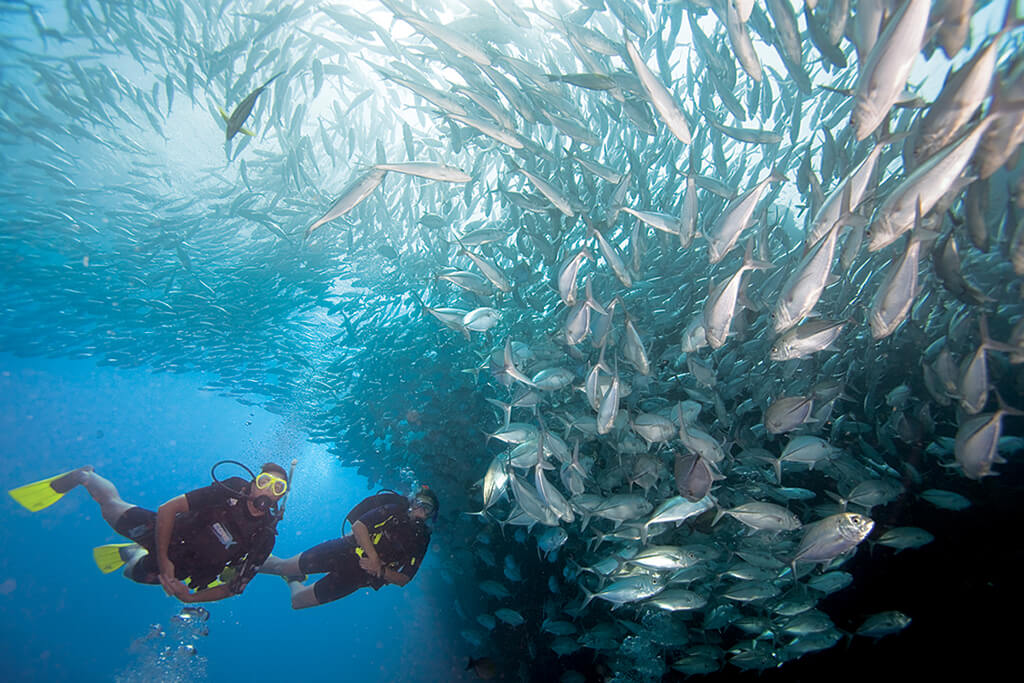 Frequently asked questions
What are the requirements to learn scuba dive?
The common requirements for most of the courses are:
• The minimum age is 10 years old. Student divers who are younger than 15 earn the PADI Junior Open Water Diver certification, which they may upgrade to PADI Open Water Diver certification upon reaching 15. Children under the age of 13 require parent or guardian permission to register for PADI eLearning.
• All student divers complete a brief scuba medical questionnaire upon their arrival to our diving centre. We highly recommend you to go through it and fill the questionnaire out before your holiday to avoid further delays and inconveniences.
If none of these apply, sign the form and you're ready to start your diving experience. If any of these apply to you, your doctor must, as a safety precaution, assess the condition as it relates to diving and sign a medical form that confirms you're fit to dive. Download the scuba medical questionnaire.
• Before completing the PADI Open Water Diver course, your instructor will have you demonstrate basic water skills to be sure you're comfortable in the water, including:
– Swim 200 metres (or 300 metres in mask, fins and snorkel) without stopping. There is no time limit for this, and you may use any swimming strokes you want.
– Float and tread water for 10 minutes, again using any methods you want.
Do I need to be able to swim to dive?
The answer differs according to the experience you'll participate in.
-No, if you're doing only an introduction dive (Try Diving, DSD). However you should be comfortable in the sea.
-Yes, but you don't have to be a strong swimmer. However we will test your abilities during your PADI Open Water Diver Course. You are required to be able to swim 200m and to float unassisted for 10 minutes.
If you are not there yet then taking a couple of swim classes will improve your confidence and overall enjoyment.
I wear glasses, can I still dive?
Yes absolutely. One option is to dive in contact lenses – daily disposables are best in case you lose one during some of the mask skills which can happen from time to time. Or you may just want to keep your eyes closed if water enters the mask, until your clear it.
If you are not a contact lens wearer then a prescription mask is a great option. The best is to invest into your own before your diving holiday. This would enhance all of your future dives.
If you are long sighted (have difficulty reading but are okay with distances), then you can buy prescription stickers that you apply to the lower section of a regular mask – much like wearing reading glasses.
Can I study the theory at home?
Yes, you can study at home and after your arrival to our diving centre you complete the fun and most important practical part of your training.
But please keep in mind that you are responsible for studying and your own learning process. Without theory we might not be able to take you diving. Please read the relevant section about PADI eLearning on our FAQ page.