Age: min age 10 years old
Medical Check: basic swimming skills, medically fit for diving
*Please check the PADI Medical statement (link) carefully before diving with us. Must be filled before the course starts.
PADI Scuba Diver
For Beginners (no experience required)
The PADI Scuba Diver course is a subset of the PADI Open Water Diver course. If you're short on time but really want to become a diver, the PADI Scuba Diver rating might be right for you. No prior experience with scuba diving is required. Start today with Divinguru in Sri Lanka!
* online price, does not include certification and teaching materials, in total 70 €
This course is an intermediate step for earning an Open Water Diver certification, if that's your ultimate goal.
To get certified, you must first complete:
Knowledge Development in our diving centre to understand basic principles of scuba diving (

just the first three of five sections of the Open Water Diver course

)
Three Confined Water Dives to learn basic scuba skills
Two Open Water Dives to use your skills and explore!
After completing the course you are limited to 12 Meters and you always need to dive with a PADI Professional.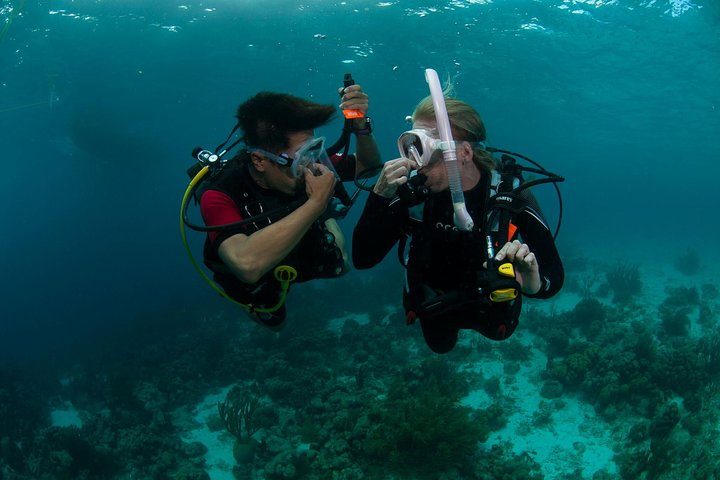 Schedule
How the course run?
Day 1 (8:30 - 16:00)
Upon your arrival at the base, you will be welcomed by one of our local and international Divemasters and Instructors. You fill out the necessary paperwork, medical statement and make your payment. We accept both card and cash.
First you start in classroom with theoretical part which includes videos, knowledge reviews, quizes and final exam for around half a day.  For the PADI Scuba Diver course you need to study just the first three of five sections of the Open Water Diver course.
Day 2 (8:30 - 15:00)
Same or the following day you will start with practical skills. During three Confined Water Dives, you learn and practice scuba skills in a pool or water with pool-like conditions. You'll enjoy making one or more mini dives, which take you through the same steps you follow when you make open water dives (Day 3). 
Day 3 (8:30 - 13:00)
Now it's time to complete training you practice, apply and demonstrate what you learn during two Open Water Dives at a local dive site.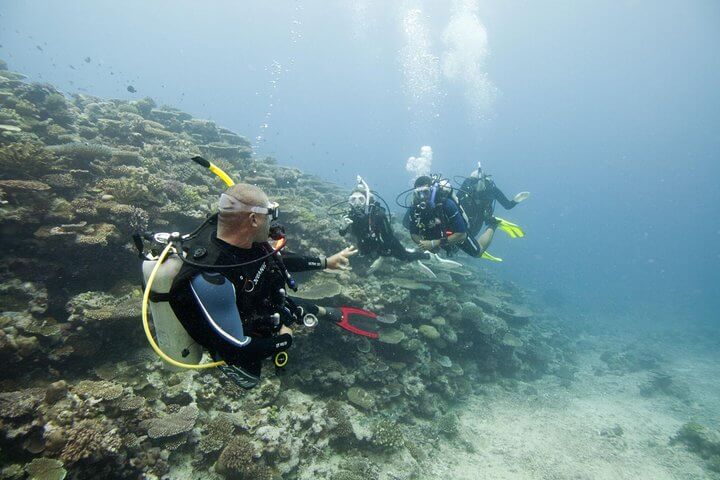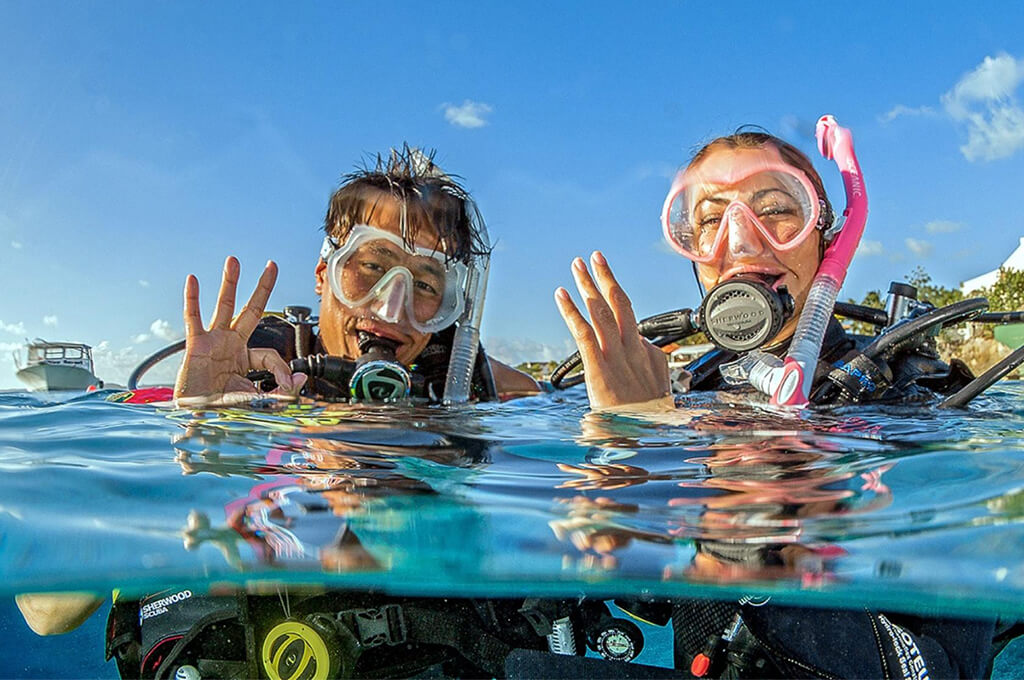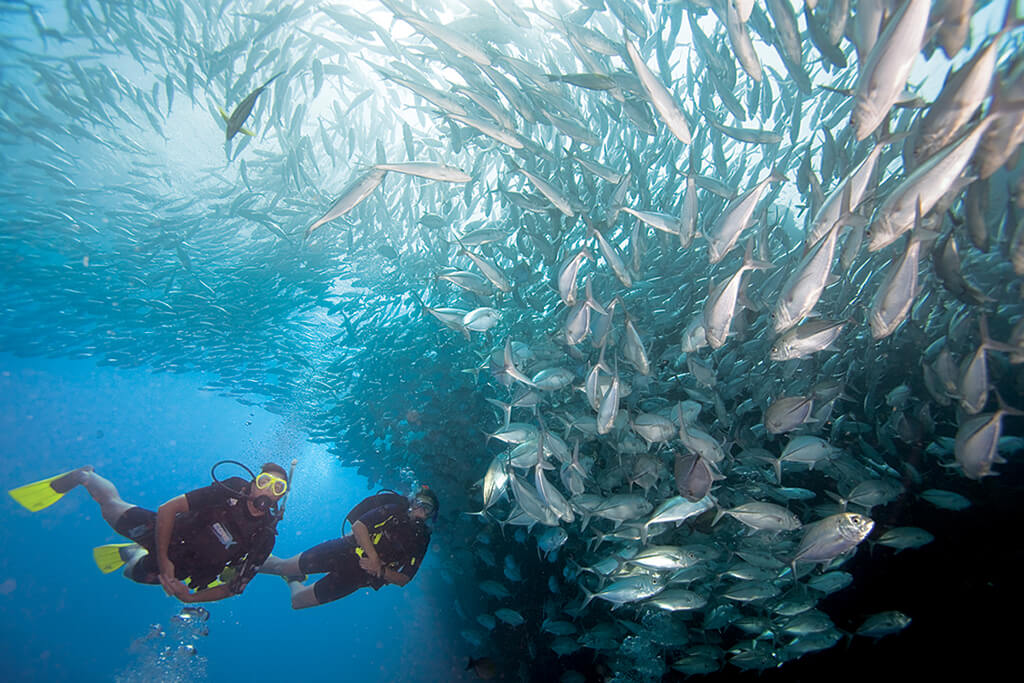 Frequently asked questions
What are the requirements to learn scuba dive?
The common requirements for most of the courses are:
• The minimum age is 10 years old. Student divers who are younger than 15 earn the PADI Junior Open Water Diver certification, which they may upgrade to PADI Open Water Diver certification upon reaching 15. Children under the age of 13 require parent or guardian permission to register for PADI eLearning.
• All student divers complete a brief scuba medical questionnaire upon their arrival to our diving centre. We highly recommend you to go through it and fill the questionnaire out before your holiday to avoid further delays and inconveniences.
If none of these apply, sign the form and you're ready to start your diving experience. If any of these apply to you, your doctor must, as a safety precaution, assess the condition as it relates to diving and sign a medical form that confirms you're fit to dive. Download the scuba medical questionnaire.
• Before completing the PADI Open Water Diver course, your instructor will have you demonstrate basic water skills to be sure you're comfortable in the water, including:
– Swim 200 metres (or 300 metres in mask, fins and snorkel) without stopping. There is no time limit for this, and you may use any swimming strokes you want.
– Float and tread water for 10 minutes, again using any methods you want.
What is advantage and disadvantage of PADI Scuba Diver Course
The PADI Scuba Diver Course is an intermediate step towards full scuba certification for people who can't finish their Open Water training or only want to dive with a PADI Professional. So if you're short on time to complete the entire Open Water course but wish to become a certified diver, the Scuba Diver course is right for you.
The PADI Scuba Diver course is a subset of the Open Water Diver course. It allows you to dive only under direct supervision of a PADI Divemaster, Assistant Instructor or Instructor to a maximum depth of 12 metres/40 feet.
However we highly recommend to participate in the full PADI Open Water Diver Course, the most-recognized scuba certification in the world. After success completion you can plan and execute dives with a certified buddy or dive professional to a maximum depth of 18 meters/60 feet.