Fun Diving
For Qualified Divers
Get to know the fascinating underwater world of Sri Lanka. Choose from different dive sites and spend a part of your holiday under the water. Sri Lanka offers you magnificent coral reefs, stunning wrecks, spectacular marine life, rock formations with swim-throughs and much more. Join us for morning or afternoon dives and have fun!
* online price for one dive with own equipment
Whether a beginner or an experienced diver, with us you'll find diving suitable to your diving skill level which will meet both, your encourages and demands.
Best you're discussing your dives with our PADI Divemaster or PADI Instructor. Thus we can personally adjust to you to meet your diving experience and diving skills. Normally we dive with max. 5 divers and one Divemaster or Instructor. Available are reef, rock, deep, wreck dives sites.
If a diver hasn't dived for a minimum of 6 months, we recommend to take Refresher dive before where you can slowly gain your confidence back.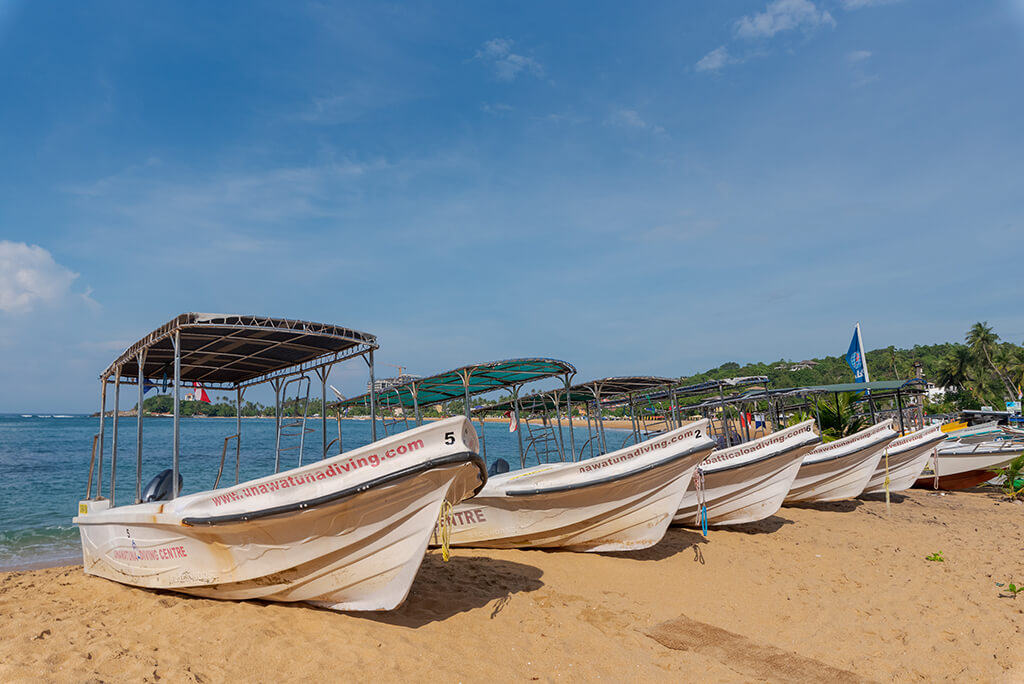 Schedule
When do we start?
Our diving trip consists of two dives each (Two-tank boat dives). You start either in the morning, at 8:30, or in the afternoon, at 13:30. Please contact us AT LEAST one day before, so that we are able to organize the groups and get a place for you on one of our dive boats.
Arrival (8:30 | 13:30)
Upon your arrival at the base, you will be welcomed by one of our local and international Divemasters and Instructors. You fill out the necessary paperwork, medical statement and make your payment. We accept both card and cash.
Preparation
Then you are sized up for your equipment, if you aren't already carrying your own equipment. Once all the equipment is set up, you will have a comprehensive but compact dive and boat briefing with your group. 
This consists of important information about the dive sites, important local and special dive procedures, safety procedures, recall procedures, attractions of the dive site, marine life, dive profile, signs & signals, etc. Dive planning is quintessential to good, peaceful and fun dives, and we aim for nothing but perfection.
Departure (9:00 | 14:00)
Finally, we cast off! Once the equipment is loaded on the boats with the help of our staff, we take off to our dives sites, of which most can be reached within 20 minutes.
Diving
A two-tank boat-dive consists of two dives. If there is a significant difference in depth between the two approached dive sites, the deeper dive will be dived first (we dive with PADI and therefore avoid reverse profiling). If a diver hasn't dived for a minimum of 6 months, the first dive would be shallow in order to get comfortable in the water and enjoy the dive.
Depending on the No-Decompression Limits, a dive is usually a maximum of 45 minutes.
The surface interval (depending on the planning of the Dive Computer and the dive profile) is usually covered by the drive to the next dive site. In the meantime, the equipment is prepared for the next dive. We will NOT go back to the dive centre between dives, unless absolutely necessary.
Return (11:00 | 16:00)
After your return to the diving school, we encourage you to talk about your underwater experience with tea and cookies. Our guides help you to complete your logbook entries and identify different species that you witnessed during your dives. 
Diving helps create a bond between people, all coming from different parts of the world, but all sharing the same love for the ocean, and we provide a platform for just that.
Difference between
south and east coast.
Sri Lanka offers great diversity of dive sites. Differences between diving on the south coast and east coast are significant. You can find wrecks at 6 metres or even at 32 metres depth, magnificent coral reefs, swim-throughs and other specific dive sites.  To meet your expectations, please check what you can expect while diving on the south coast compared to the east coast HERE.
When is Sri Lanka diving season?
Diving in Sri Lanka is affected by two monsoons, south west and north east monsoons. The best time to dive in Unawatuna (south coast) is from mid October until April and in Nilaveli, Trincomalee (east coast) from mid March until end of October. It's simple, half year we are operating in Unawatuna and second half we are open in Nilaveli and Trincomalee.

2 Boat Dives Package
• equipment included
• max. 5 divers/group
• free pick-up, refreshment

4 Boat Dives Package
• equipment included
• max. 5 divers/group
• free pick-up, refreshment

6 Boat Dives Package
• equipment included
• max. 5 divers/group
• free pick-up, refreshment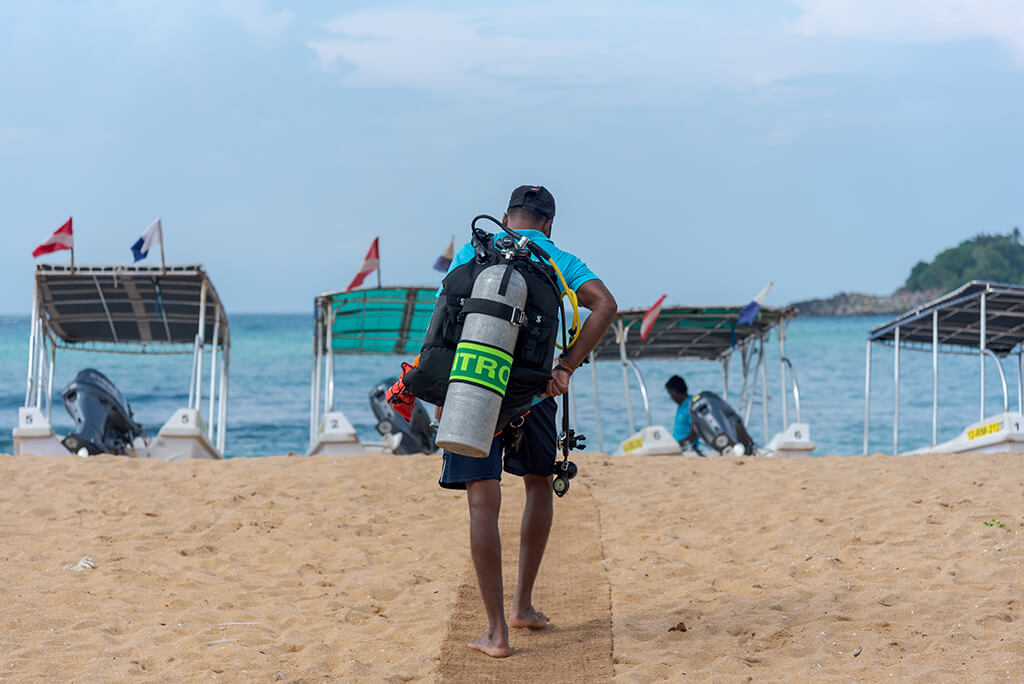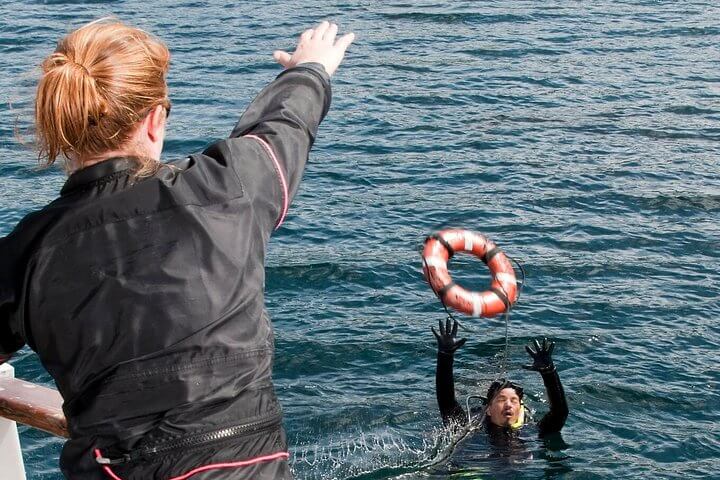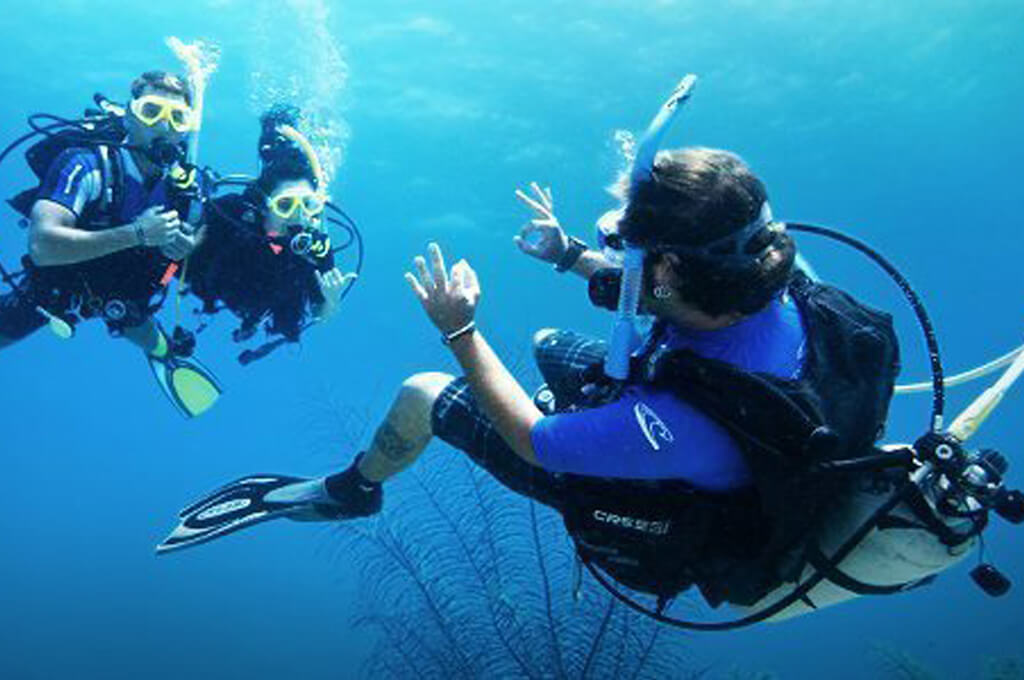 Frequently asked questions
When I should arrive to the diving centre?
We are open every day from 8:00, our team is preparing everything for your arrival at 8:30 in the morning or 13:30 in the afternoon.
Half-day activities usually finish between 11:00 – 12:00h (afternoon dive trips finish around 16:00h), whereas full day courses finish around 17:00h.
Is better to dive in the morning or afternoon?
We highly suggest mornings as the sea can be rough in the afternoon. However we always check the forecast so we can advise you the best time.
What equipment is included in the price?
All our dives and courses include basic diving equipment: shorty wetsuit, regulator, BCD, mask, fins, weights and tank. Additional accessories such as torch, dive computer, compass, dive camera, etc. can be rented at little extra cost at the dive center.
For divers bringing their own equipment we offer small discount. Please note that the discount is valid only if you bring at least your own BCD + regulator!  However, we cannot offer discounts for small items such as only masks, fins or only a dive computer.
All prices with own or rental equipment you can find on our Rates & Offers page.
What should I bring for diving?
Diving certifications, log book, diving insurance (if available), your medical statement will get you to the water faster.
Sunscreen, bathing suit, towels and changing clothes are also recommended. Feel free to bring snacks and drinks with you.
You can leave your personal belongings in the dive center, but please be aware that we do not take any liability for lost items. Please only bring what you really need.
What is the underwater visibility and temperature?
Please note that the visibility of the water depends on many factors (tides, wind, etc.) which disturb the bottom composition. We cannot guarantee great visibility at all times. However we check the forecast frequently so we can advise you the best time for diving or other activities.
Underwater Visibility: In average 5 to 30 m, depends on the weather conditions, the current and tides.
Outside Temperature: 26 Degrees Celsius to 32 Degrees Celsius the whole year round.
Water Temperature: 27 Degrees Celsius to 29 Degrees Celsius the whole year round.
Do you have good wreck diving spots in Sri Lanka?
You can find many nice wreck diving spots around Sri Lanka. Famous wrecks are around Colombo where you can dive during the south-west season starting in November until April.
In Unawatuna (south coast, season from October-April) we have three wrecks. For beginners you can enjoy diving and snorkelling around the wreck in Unawatuna Bay, maximum depth around 6 meters. For advanced divers there are two wrecks Rangoon and SS Orestes. Rangoon wreck lies in depth of 30 meters and it's relatively broken up. The SS Orestes wreck is more intact wreck in depth of around 22 meters.
In Nilaveli, Trincomalee (east coast, season from March-October) we have fewer wrecks. One broken up in depth of around 8 meters. What worth seeing is the Underwater Navy Museum in Trincomalee, opened in 2020. As a part of this museum you can see two big intact shipwrecks in depth of max. 18 meters. Great for all wreck lovers, student divers, beginner and qualified divers.