Age: min age 12 years old
Medical Check: basic swimming skills, medically fit for diving
*Please check the PADI Medical statement (link) carefully before diving with us. Must be filled before the course starts.
PADI Rescue Diver
For Qualified Divers (min OWD)
Scuba divers describe the PADI Rescue Diver course as the most challenging, yet most rewarding course they've ever taken. Move your diving qualification into the next level and become a rescue diver with Divinguru in Sri Lanka!
* online price, does not include certification and teaching materials, in total 70 €
You learn to prevent and manage problems in the water, and become more confident in your skills as a diver, knowing that you can help others if needed.
During the course, you learn to become a better buddy by practicing problem solving skills until they become second nature. Plus, the course is just fun – it's serious, but still allows for lots of laughter in between the focused learning.
The PADI Rescue Diver course prepares you to deal with dive emergencies, minor and major, using a variety of techniques. Through knowledge development and rescue exercises, you learn what to look for and how to respond.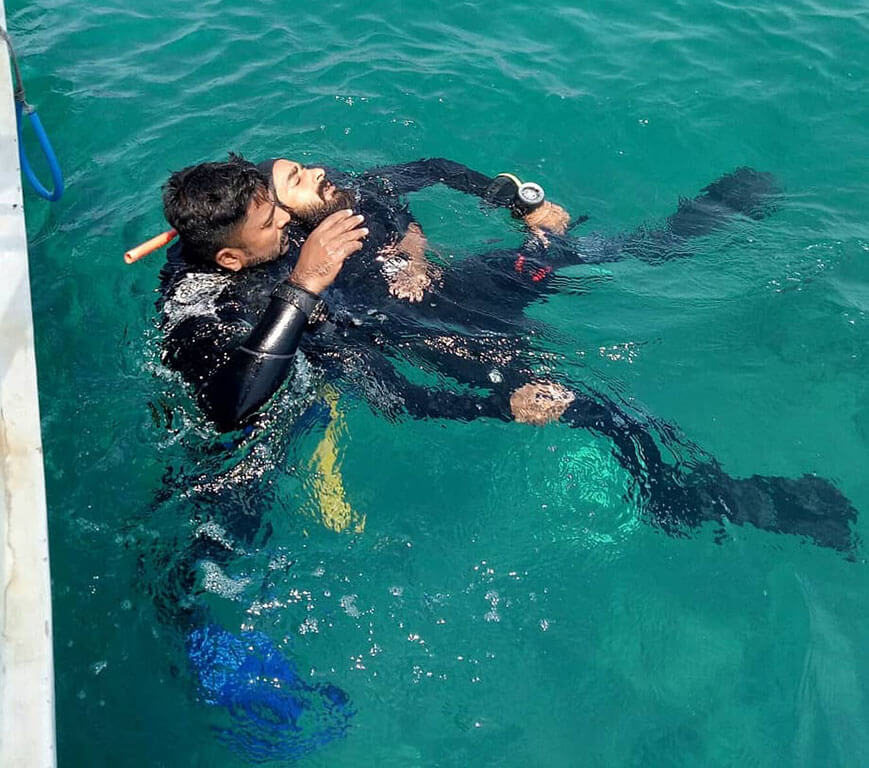 The Rescue Diver course can be completed in a minimum of 4 days. If you should be short of time we recommend you to participate in the PADI OWD eLearning programme before your holiday.
With this you acquire the theory with PADI learning texts and videos on your Computer or Tablet and can start to dive as soon as you arrive. Please note you have to purchase also the Rescue Diver Manual (if choosing eLearning) on PADI website.
Knowledge Development eLearning (online, independent study) or in our diving centre (one day classroom)
Four Open Water Dives (exercises and scenarios)
During rescue scenarios, you put into practice your knowledge and skills. Topics include:
Self rescue
Recognizing and managing stress in other divers
Emergency management and equipment
Rescuing panicked divers
Rescuing unresponsive divers
Please schedule a minimum of 4 – 5 days for your RESCUE DIVER course in any case, because we cannot start a course with single person every day.
Schedule
How the course run?
Day 1
Upon your arrival at the base, you will be welcomed by one of our local and international Divemasters and Instructors. You fill out the necessary paperwork, medical statement and make your payment. We accept both card and cash.
Then you start in classroom with theoretical part for each adventure dive (knowledge reviews, quizes and final exam) for around half a day.
Day 2, 3 & 4
You need also 2 to 3 days for 4 Open Water Dives where you learn and practise rescue scenarios.
You demonstrate skills you've learned and explore more the underwater world of Sri Lanka!
• 4 days
• theory in diving centre (classroom lesson with instructor)
• equipment included
• refreshment
• free pick-up
* Excluded: PADI certification and teaching materials, total 70€
Rescue Diver Course
with eLearning
• 3 days
• independent study
• equipment included
• refreshment
• free pick-up
* You have to register and purchase the Rescue Manual on PADI website (AUD 330)
Difference between
south and east coast.
Sri Lanka offers great diversity of dive sites. Differences between diving on the south coast and east coast are significant. You can find wrecks at 6 metres or even at 32 metres depth, magnificent coral reefs, swim-throughs and other specific dive sites.  To meet your expectations, please check what you can expect while diving on the south coast compared to the east coast HERE.
When is Sri Lanka diving season?
Diving in Sri Lanka is affected by two monsoons, south west and north east monsoons. The best time to dive in Unawatuna (south coast) is from mid October until April and in Nilaveli, Trincomalee (east coast) from mid March until end of October. It's simple, half year we are operating in Unawatuna and second half we are open in Nilaveli and Trincomalee.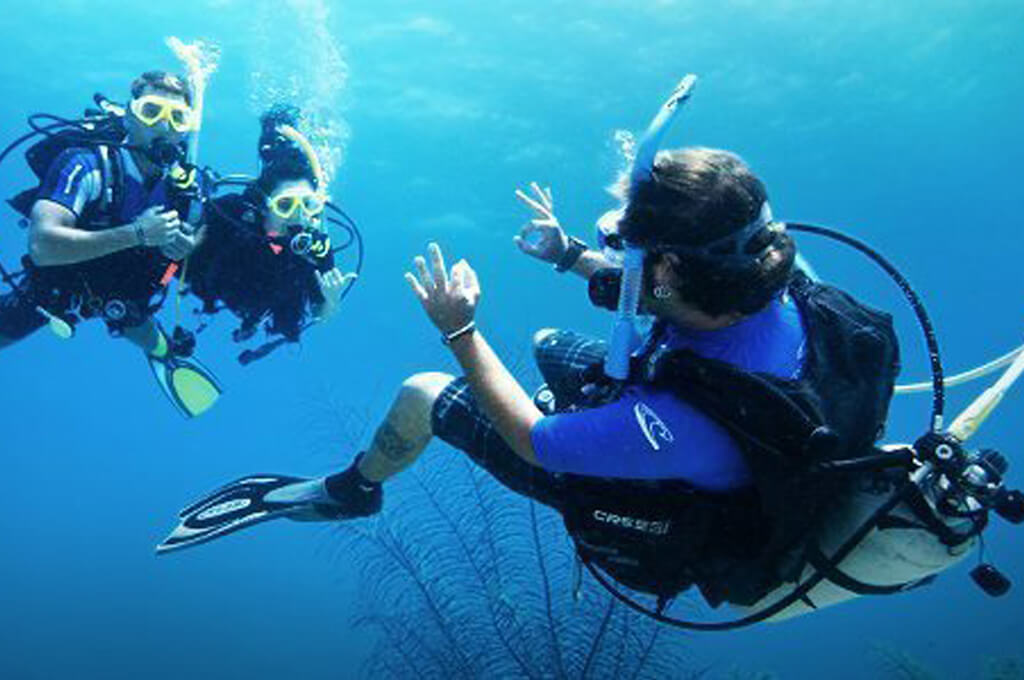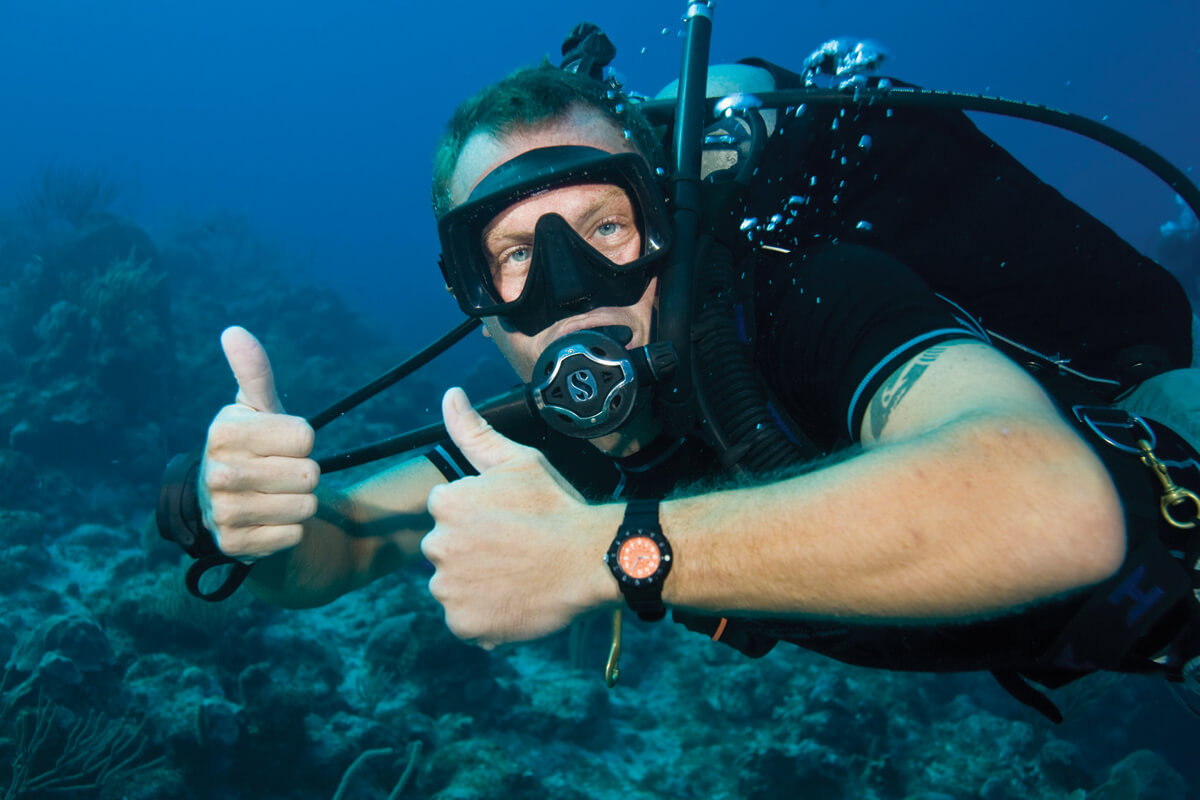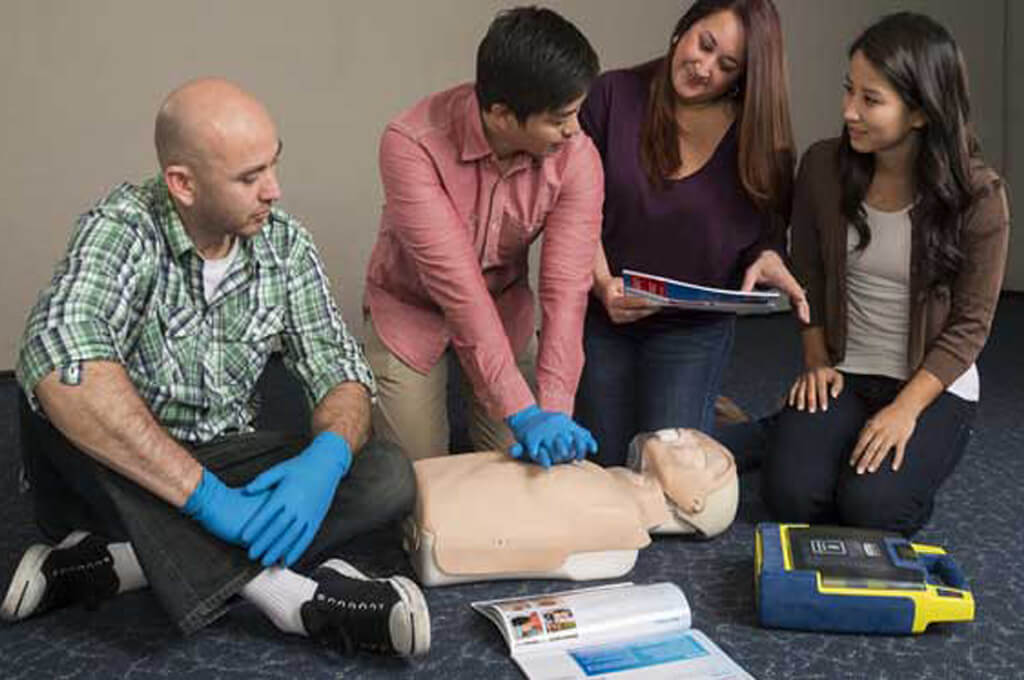 Frequently asked questions
I'm Advanced Open Water Diver, what's the next step?
After the PADI Advanced Open Water Diver course you can take the Emergency First Responseand PADI Rescue Diver Course. We highly recommend you do both of these courses together so the First Aid knowledge is still fresh when you do the Rescue Course.
What are benefits of Rescue Diver course?
The PADI Rescue Diver course teaches you techniques to avoid and manage problems and improve your confidence as a diver. During the course you'll become a better buddy by enhancing your ability to identify potential problems and by practicing dive emergency protocol.
You learn to prevent and manage problems in the water, and become more confident in your skills as a diver, knowing that you can help others if needed.