If you have any questions, would like some advise, just fill out the form below and we get back to you as soon as possible.
Did you know that most of the questions are answered in FAQ section?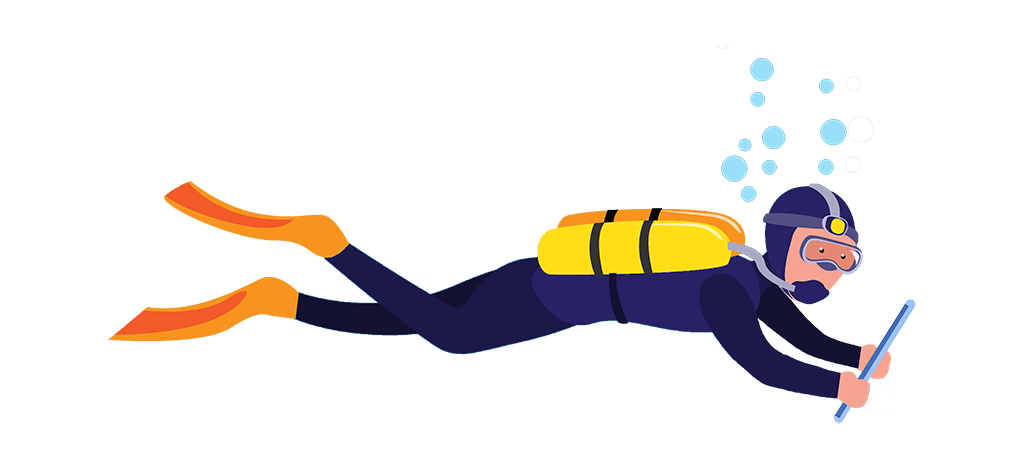 Frequently Asked Questions
When is the best diving season?
Our diving centres are open according to the monsoon seasons. Like this we can ensure the best diving conditions for your dive trip! Best time to dive and visit our diving centres:
Unawatuna (south coast):
1st November to 10th April
Nilaveli, Trincomalee (east coast):
15th March to 30th October
Do you provide accommodation?
Yes, we offer accommodation and restaurant on site. Enjoy your stay with us in our Divinguru® Beach Resort in Nilaveli, 12 km north from Trincomalee. We offer modern accommodation suitable for whole family, couples or diving groups. For more details visit our Divinguru® Beach Resort website.
How can I get the best price for diving?
Book online (at least 48 hours before the activity starts), pay deposit of 50 % in advance and get online discount for your dive trip, snorkeling or any other underwater experience. We have fixed prices however you can check our Rates & Offers page for upcoming special offers.
Why I have to book online?
We are diving every day and our Instructors have a busy schedule. The best is to book online in advance, like this we ensure you a place on the boat and the most suitable group to join.
Since some courses may last up to 1 week and we like to offer individual services, we highly recommend you to book as early as possible to guarantee your desired dive schedule.
How do I make my booking?
1. After you decided on your accommodation type, diving package or course, just fill out the reservation form on Book Now page. Please make sure to enter correct details.
By sending the reservation form you also confirm to agree with our Terms & Conditions.
Directly after you did send the form, you will receive an automated acknowledgement of receipt. This is not a booking confirmation!
If you were in contact with our Service & Booking Team before, you still need to go through this booking process and send the form. This is the only way we can guarantee your booking.
2. Once our service team has processed your booking request, you will receive an email from us. This is either a confirmation of your booking or a suggestion of alternative availabilities and your options.
If you do receive a booking confirmation, we will also send an invoice over 50% of the total booking amount.
We try to answer all enquiries within a maximum of 48 hours. However, since we get a lot of requests, it can take a little longer at times.
Only a booking confirmed by email from our Service & Booking Team guarantees your booking.
3. Apart from your booking confirmation we additionally will send an invoice for 50% of the total booking amount. This is a deposit and will be charged regardless of amount and duration of the booking.
The remaining amount of your booking should be paid at arrival to our diving centre.
This and all other information will be sent to you together with your booking confirmation. Should you still have any questions please don't hesitate to contact us via contact form or an email.
Didn't find what you were looking for?
Reach Us On WhatsApp, everyday from 8am – 7pm!
We'd love to hear from YOU!
1st November – 10th April
info@divinguru-unawatuna.com
No. 294 Matara Road,
Unawatuna
Post Code: LK 80600
15th March – 30th October
info@divinguru-nilaveli.com
Ward No. 3, 9th Mile Post,
Nilaveli / Trincomalee
Post Code: LK 31010
* currently closed, operating from Divinguru Nilaveli
info@divinguru-trincomalee.com
Allesgarden, Uppuveli, Trincomalee
Postal Code: LK 31000