Try Diving
For Beginners (no experience required)
Seeking for an adventure during your holiday? Try something new and Dive with us! Discover the underwater world and learn more about spectacular marine life of the Indian Ocean.
Have you always wondered what it's like to breathe underwater? If you want to Try Scuba Diving, but aren't quite ready to take the plunge into a certification course, our Try Scuba Diving and PADI Discover Scuba Diving is for you.
* online price for one dive with rental equipment
While not a scuba certification course, Try Scuba Diving and PADI Discover Scuba Diving is a quick and easy introduction to what it takes to explore the underwater world. 
To breathe underwater for the first time – what a feeling! This is simply incomparable! You have to get used to it at first. After all, people are not made for it normally. After a few minutes of quiet breathing under water, most participants realize how easy diving can be. To stay calm and to follow the instructions of your PADI Divemaster are the first prerequisites to complete the first diving exercises of your life. If that works after a few minutes, most of the participants are really enthusiastic and never forget that first impression under water.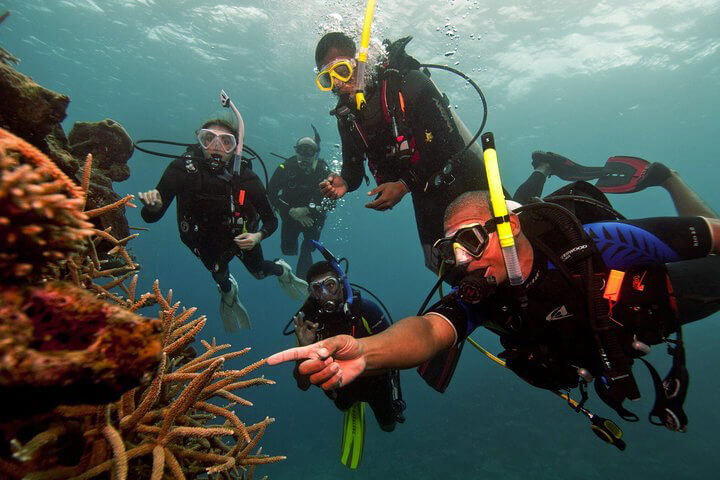 You learn the basic safety guidelines and skills needed to dive under the direct supervision of a PADI Professional. If you make an open water dive, you'll practice a few more skills in shallow water to prepare for your adventure. Get ready to:
Learn about the basic scuba equipment and how to use it underwater
Find out what it's like to breathe underwater.
Learn key skills that you'll use during every scuba dive.
Have fun swimming around and exploring.
Hear about becoming a certified diver through the PADI Open Water Diver course
Must be at least 10 years old.
No prior experience with scuba diving is necessary but you need to be in reasonable physical health.
All divers must fill out a brief scuba medical questionnaire about medical conditions that could be a problem while diving.
Schedule
When do we start?
Because of the high demand on fun dives in the morning we decided to usually start Try Scuba Diving in the afternoon (in some cases, in the off-season, there is also the possibility to start in the morning). You can start in the afternoon, at 13:15. Please contact us AT LEAST one day before, so that we can organize the course groups and reserve a spot for you.
Arrival (8:15 | 13:15)
Upon your arrival at the base, you will be welcomed by one of our local and international Divemasters and Instructors. You fill out the necessary paperwork, medical statement and make your payment. We accept both card and cash.
Preparation
Then you are sized up for your equipment, we give you fins, mask and wetsuit. Once Divemaster set up all the equipment, you learn basics about scuba diving.
Then you have a comprehensive but compact dive and boat briefing with your group. This consists of important information about the dive sites, safety procedures, attractions of the dive site, marine life, signs & signals.
Departure (9:00 | 14:00)
Finally, we cast off! Once the equipment is loaded on the boats with the help of our staff, we take off to our dives sites, of which most can be reached within 10 minutes.
Diving
Time passes quickly underwater as you are surrounded by all the fish. You will enjoy spectacular marine life and first time breathing underwater. One dive usually takes a maximum of 35 to 45 minutes depending on your breathing and air consumption.
If you loved your first experience, you could also do a second dive and get even more comfortable. And if you have more time to spare and cannot resist getting into the water, you could continue on to doing the PADI Scuba Diver Course or the PADI Open Water Course.
Return (11:00 | 16:00)
After your return to the diving school, our Divemaster helps you to identify different species that you witnessed during your dives.
Diving helps create a bond between people, all coming from different parts of the world, but all sharing the same love for the ocean, and we provide a platform for just that.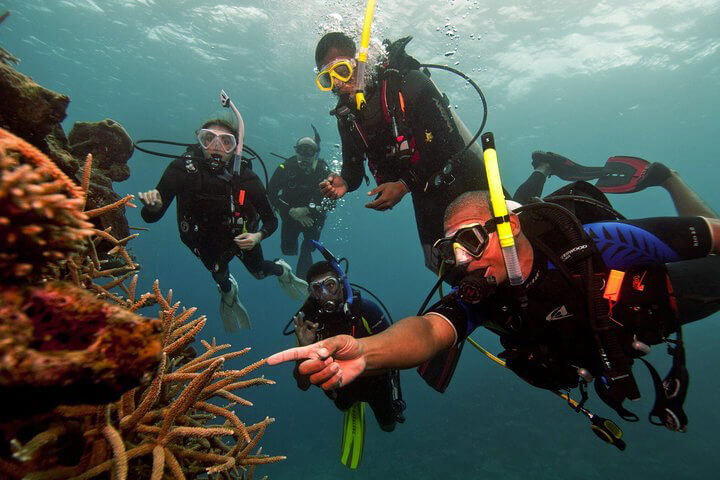 Maximum depth 6 metres
Guided by PADI Divemaster
Basic information about scuba diving
Quick introduction to scuba diving
Trying underwater skills – optional
Difference between
south and east coast.
Sri Lanka offers great diversity of dive sites. Differences between diving on the south coast and east coast are significant. You can find wrecks at 6 metres or even at 32 metres depth, magnificent coral reefs, swim-throughs and other specific dive sites.  To meet your expectations, please check what you can expect while diving on the south coast compared to the east coast HERE.
When is Sri Lanka diving season?
Diving in Sri Lanka is affected by two monsoons, south west and north east monsoons. The best time to dive in Unawatuna (south coast) is from mid October until April and in Nilaveli, Trincomalee (east coast) from mid March until end of October. It's simple, half year we are operating in Unawatuna and second half we are open in Nilaveli and Trincomalee.

1 Try Scuba Dive
• equipment included
• refreshment
• free pick-up

2 Try Scuba Dives
• equipment included
• refreshment
• free pick-up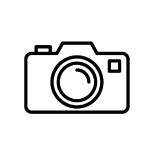 Underwater pictures
• action camera rental/ pictures by Divemaster
• post production
Frequently asked questions
What marine life we see while scuba diving?
Every dive is unpredictable and unique, that's why diving is so exciting. As we go off the shore we are in the real nature and not in a zoo so we cannot promise or guarantee to see particular wild animals. However we guarantee that our team makes maximum to find them and fulfill your expectations.
Marine life you may see include: Stingrays, Eagle Rays, Turtles, Moray Eels, Nudibranchs, Cuttlefish, Octopus, Barracuda, Trevally, Angelfish, Triggerfish, Soldier Fish, Surgeon Fish, Pufferfish, Fusiliers, Lion Fish, Sea Stars and many other coral reef fish. Whale Sharks can be spotted on both east and south coast. Black Tip Reef Sharks you find on the famous Pigeon Island, located a few minutes from our Divinguru® Nilaveli Resort. Whales and Dolphins can be spotted around Trincomalee while Whale Watching. If you get really lucky, time to time you might see them in Unawatuna too.
How long is the duration of the entire experience?
While not a scuba certification course, Try Diving is a quick and easy introduction to what it takes to explore the underwater world. 
The duration of the try scuba diving experience is between 2-3 hours. The main goal is to introduce you the fascinating blue world and experience with you the first breath underwater. You'll learn the basics about scuba diving, diving gear and the marine environment.
Why to choose Divinguru for my first experience?
Because our main priority is Safety followed by Customer Service. We have small groups maximum of 4 beginner divers accompanied by our PADI Divemasters or Instructors.
Our multilingual international team makes sure you have the best underwater experience in Sri Lanka. The most important while Try Diving experience is that you have fun!