How to choose the best diving centre for your PADI Open Water Diver Course
The PADI Open Water Diver Course is the world's most popular and widely recognised entry level scuba course. If you've always wanted to take scuba diving lessons, experience unparalleled adventure and see the world beneath the waves, this is where it starts. Are you ready to become certified PADI Open Water Diver in Sri Lanka? Here is a short guide how to choose the best diving centre for your OWD course.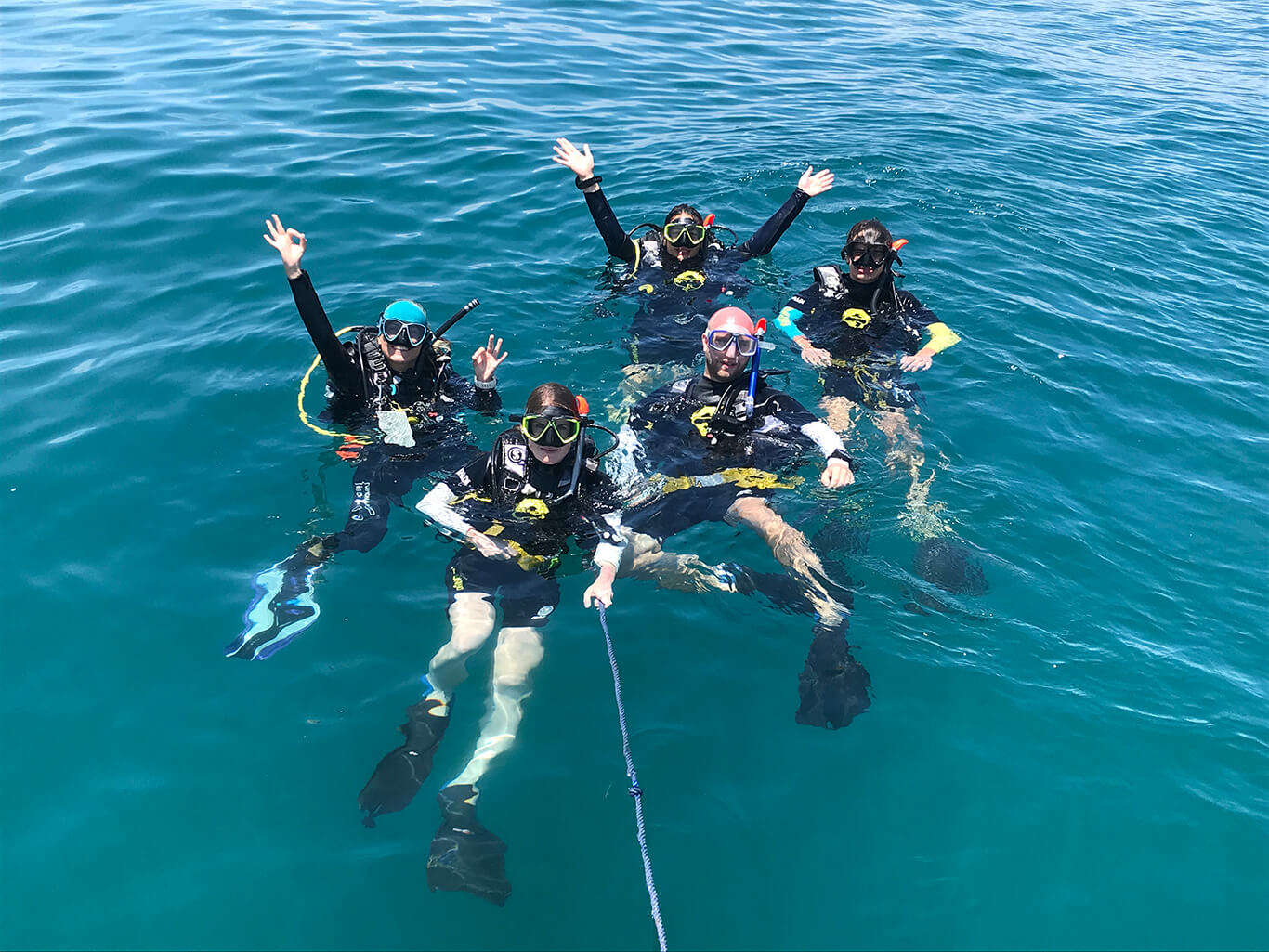 Have fun completing your entry level scuba course!
There is dozens of diving schools in Sri Lanka but how do you make sure that you get the best possible training and experience? Here is a simple list of questions to ask before choosing a diving centre for training:
1. Is the dive centre PADI registered and renewed?
2. Do the dive centre and Instructors have an Insurance?
3. How many Instructor do they have, where are they from and what languages they speak?
4. How many participants is in one course, Student to Instructor ratio.
5. Are there any additional costs I should be aware of?
6. How many days the PADI OWD Course takes?
How to get the best training?
 The duration of the entry level scuba course is crucial. Don't rush your PADI OWD course! You learn the most over time. The minimum duration of the PADI Open Water Diver Course is 3-4 days. Do other dive centres offer course just in 2 days? Check the whole schedule out and make your opinion.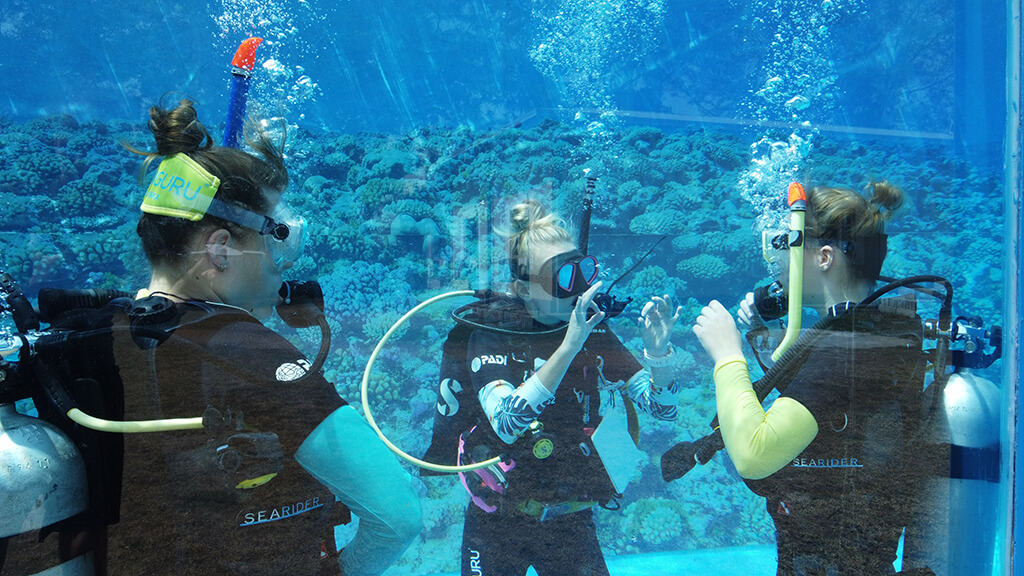 Take your time and get the best training and experience.
Schedule of the PADI Open Water Diver Course

Day 1: registration and theory
Every diver needs to fill Diver Registration Form which includes PADI Safe Diving Practices and Liability Release forms. Very important is also the Diver Medical Questionnaire to see if you are ready to go diving. Is any dive centre not offering these? Careful with that.. scuba diving requires good physical and mental health. If you successfully complete your "first exam",.. I mean this diver registration form then you can start with the theoretical part of the course. The theory takes whole day and it's important to understand all theoretical fundamentals of scuba diving. Don't worry! Our instructor is there for you to show you real life example, equipment and makes it fun! The theory is divided into 5 chapters.. you'll watch videos, complete knowledge reviews, quizzes and final exam.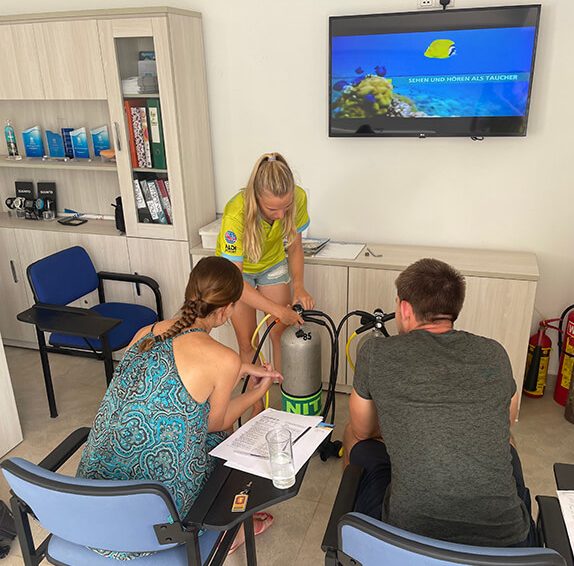 Your Instructor guides you through the theoretical development and answers all your questions.
Day 2: confined dives in swimming pool
Now you are ready to jump in the water! Our new diving centre in Nilaveli has a special diving pool with deep part where you practice and improve your skills as a diver. Again, there is 5 confined dives to complete and depending how comfortable you are in the water, it might take half up to whole day. Definitely you can get ready for this part before starting your course! Get used to breathing through your mouth and swim with your eyes open in the water. That helps a lot!
To become a qualified scuba diver you need to be able to swim! At least you have to be able to maintain yourself comfortable at the surface for ten minutes in water too deep in which to stand.
You also have to do a 200 m swim (any style) or 300 m snorkel swim (with mask, snorkel and fins) without a time limit.
Day 3 & 4: diving in the open water
Now you are ready to go diving into the ocean! Each dive (total 4) has been designed to give divers the opportunity to practice and hone their diving skills while increasing confidence and comfort in the water. Each day you go diving from one of our boats, for the first two dives of the PADI Open Water Course the maximum depth is 12m. The maximum depth for final two dives of the OWD Course is 18m. We start everyday at 8:30am and finish diving at around 1pm. After you return to the diving school your Instructor helps you to complete your logbook entries and identify different species of marine life you have witnessed on your dives. Diving helps create a bond between people, all coming from different parts of the world, but all sharing the same love for the ocean, and we provide the platform just for that. Develop your skills as a diver in real diving environment and be surrounded by tropical fish! Did you know that the best corals in Sri Lanka you find on the east coast? Check out our dive sites.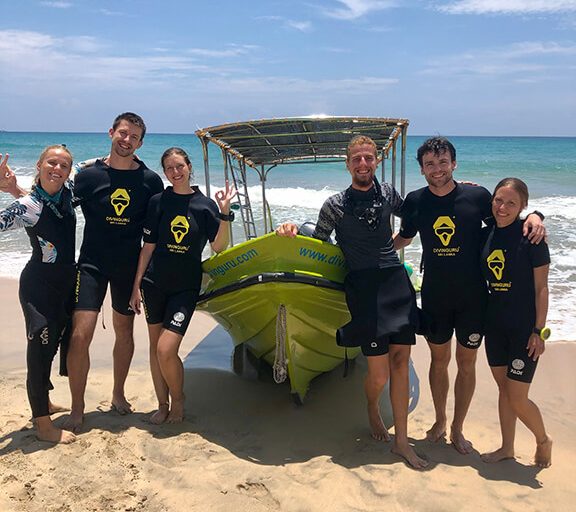 New PADI Open Water Divers. After the course you are allowed to dive up to 18m with your buddy.
Certification & Materials
Don't forget about your materials and certification! Remember that you need to be assigned with the physical or digital PADI Open Water Diver Manual in the end of the course. Make sure the dive centre certifies you! 
You'll receive an email from PADI with your temporary e-card and later on you can check your e-card in the PADI App where you have everything under "one roof" (logbook, materials and e-card). 
Finally you are qualified diver ready to explore the underwater world! As the certified PADI Open Water Diver you're able to dive just with your buddy, who is also a certified PADI Open Water diver or above up to 18m.
PADI eLearning
If you are short on time, complete the PADI Open Water Diver eLearning which shortens the total course duration. Like this the course takes only 3 days and you complete the theoretical part in advance at home. The advantage is that you can study the theory at your own pace and safe one day on your holidays in paradise! The price for the eLearning materials depends on your home country and you can check it out on PADI website.
We hope this helps you in selecting the best possible dive centre for your scuba diving courses. Happy bubbles!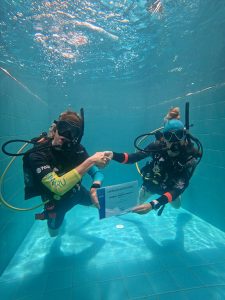 UPDATES & NEWS PADI Instructor Awards 2023 Read Time: 1 minute Our elite PADI Instructors Norbert and Ellie have received their Certificates of Excellence from PADI Regional Manager Anisha Kumar. 🤿 🎉 Thank you to all students who completed...